Why did you create two fragrances—Tuberose Le Jour and Tuberose Le Soir—instead of one?
In India, the Tuberose is known as Rajanigandha, which translates as "fragrant at night." Depending on the time of day, the Tuberose gives different scent impressions: dewy femininity at dawn, and a rich intoxicating fragrance at dusk. We wanted to capture the beauty of Tuberose in its entirety with two scents that embody its differing personalities. Together the fragrances tell the complete story of this incredible bloom.
What type of woman did you have in mind when creating these fragrances?
The Tuberose Collection is for the modern woman—feminine, strong, and sophisticated. It is aimed at someone who appreciates the luxury and authenticity of wearing an artisanal fragrance blended from the finest ingredients.
What was the inspiration behind the packaging?
Reminiscent of fine jewelry, each translucent glass bottle is adorned with a suede-like cord and golden cap. The fragrance names are engraved on a golden plaque. The color of the suede-like outer carton complements each fragrance's story and character—a pale pink for the delicate yet luminous Tuberose Le Jour, and a creamy rose for the rich and sensual Tuberose Le Soir.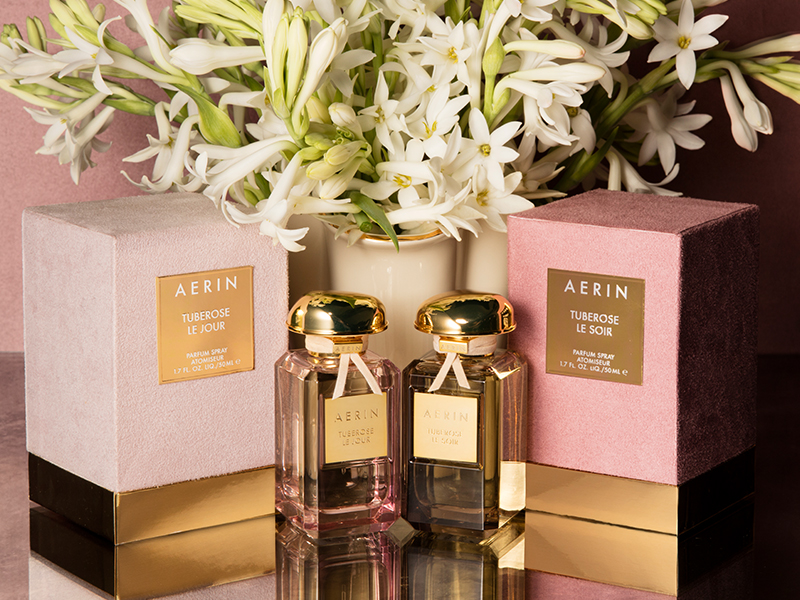 Do you consider Tuberose Le Jour and Tuberose Le Soir strictly day and night fragrances?
It depends on the mood and the occasion, but I love the versatility of both scents. They can be worn at opposite ends of the day to capture each fragrance's inspiration or layered together to create a unique scent altogether.
What are your thoughts on collecting a wardrobe of fragrances?
I absolutely believe in having a fragrance wardrobe so you can choose a scent based on your mood and feeling, not just for day and night but also by season and occasion. Estée always said you wouldn't wear the same dress to play tennis and go out to dinner so why would you wear the same fragrance?
What is your beauty routine first thing in the morning and last thing at night?
In the morning, I wash my skin with Re-Nutriv Hydrating Creme Cleanser, no toner, and follow with the range's Re-Nutriv Intensive Age-Renewal Face and Eye cremes. I also love Estée Lauder Advanced Night Repair—it gives my skin a natural glow and goes with me everywhere. At night, I add in Estée Lauder Re-Nutriv Ultimate Lift Regenerating Youth Serum and Re-Nutriv Intensive Smoothing Body Creme. I also keep the AERIN Rose Hand & Body Cream and AERIN Rose Oil on my bedside table.
What are your tips to transform your daytime look for an evening out?
I keep my personal style simple and streamlined. I like classic colors such as black, white, and beige. For me, comfort is a key element in feeling beautiful and confident. For after-work events or dinners, I usually add a statement jewelry piece or a colorful clutch. Typically, I wear flats throughout the day and if I need to, slip into heels for evening events. I also quickly transform my makeup with more eyeliner or lipstick and add a different fragrance from what I have been wearing during the day to create a unique scent.