I love the simple pairing of fresh white gardenias arranged in a gold vase. I often combine the two to brighten up a desk or create an attractive focal point on a dinner table. It was the inspiration behind a new collaboration between AERIN and High Camp Supply, the online purveyor of beautifully boxed gardenias delivered to your door. You can now order the blooms in the AERIN Gilded Clover Small Vase from either High Camp Supply or AERIN—it makes a perfect gift.
I asked Susan Hanson, one of High Camp Supply's founders, about the motivation behind the company, the Californian farm where the gardenias are grown, and her favorite floral fragrances.
You started High Camp Supply with Margaret Wells in 2014. What inspired you to deliver gardenias in such an original way?
We wanted to start a company based on experiences, not things. We set out to create a business of "ephemeral luxuries."
I had a home with acreage on the island of Kauai, where I grew many varieties of gardenias. Every day I would bring a box in from the garden with limes and lime blossom, various citrus, and flowers to arrange tablescapes and bowls. I missed the scent filling my home when I returned to San Francisco. I found a local source that had "worker" blooms (fully open gardenia blooms with no stems) and I had a standing weekly order, which I always shared with friends.
Gardenias had not shipped previously, and I could not find them on stem. I eventually tracked down the only farm producing them year round on the vine, and began working with them on a cut point that would deliver the freshest blooms possible. Margaret and I shipped to ourselves for six months, slowly perfecting the packaging process until we got it right.
I'm always amazed at how beautifully fresh the blooms are when the box arrives. How do they retain such a recently cut and crisp appearance?
We have worked very hard to make that possible. High Camp gardenias are cut to order and shipped directly from the farm to your door. Our packaging is designed to protect the fragile flower, and they are cut at a stage that they begin to bloom on arrival, adding days to the experience for the recipient.
Tell me about the farm where your gardenias are grown?
Our farm is on the central California coast, and is a 300-acre, third generation flower farm. It sits just above the Pacific Ocean, and the sand in the soil and saltwater in the air seem to create a perfect environment for growing our gardenias year round. It is such a joy to visit the farm, as you can imagine, experiencing row after row of fragrant gardenias is intoxicating. We have an exclusive partnership, and excellent relationship with our grower, and together we have achieved great headway in revolutionizing the floral industry.
What is your favorite way to present gardenias at home?
Gardenias are both elegant and simple. They are beautiful as a single floating bloom on a breakfast tray or in abundance in a formal vase on stem. They look gorgeous in the AERIN Gilded Clover Vase, and can live anywhere in the home where their fragrance will be appreciated.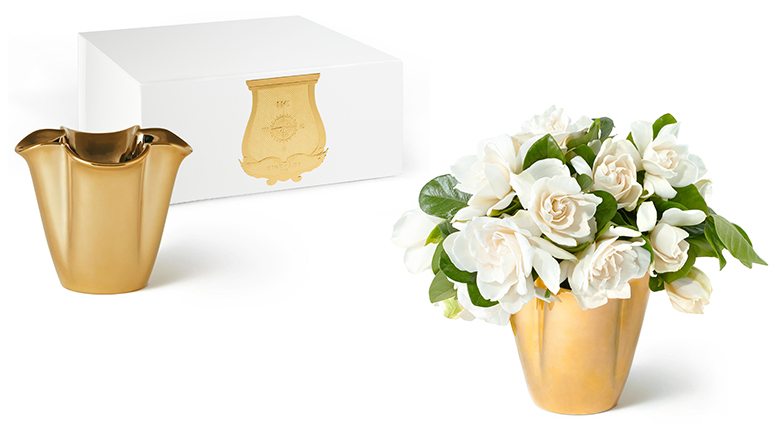 Any advice for keeping gardenias looking beautiful for as long as possible?
Gardenias love a cool drink and thrive in fresh water, protected from direct sunlight in moderate temperatures. As ours arrive so fresh, it is possible to store a portion for a couple of days in your refrigerator to extend the lifespan and stagger them throughout the week. Our weekly subscription clients use this trick to have gardenias at home every day of the year.
My favorite flowers are the inspiration behind the AERIN wardrobe of fragrances, including Gardenia Rattan. What is your favorite floral scent?
I enjoy florals mixed with wood notes, such as cedar, palo santo, and oud. It is the inspiration for our signature candle. My personal fragrance is a blend of white flowers, cedar, and white rum. I love scents that balance classic feminine floral notes with a warm "beach fire" finish. Gardenias are my favorite, but I also love white lilac, lime blossom, and jasmine in season.