Elle Macpherson is the embodiment of good genes—known as The Body, she achieved international fame as a supermodel in the 1980s. But a healthy lifestyle is essential to continued overall wellness, something Elle recognized as she approached 50. After a nutritionist recommended an alkaline diet, she noticed an improvement in her skin and energy in only two weeks, which led to the launch of her cult super vitamin, The Super Elixir of alkaline greens, formulated in conjunction with nutrition expert Dr. Simone Laubscher.
I'm so excited to be collaborating with Elle, with the AERIN limited edition Gold Caddy filled with this amazing supplement. It's a beautiful, luxurious product that can sit on a vanity, while also blocking out UV light to keep the nutrients intact.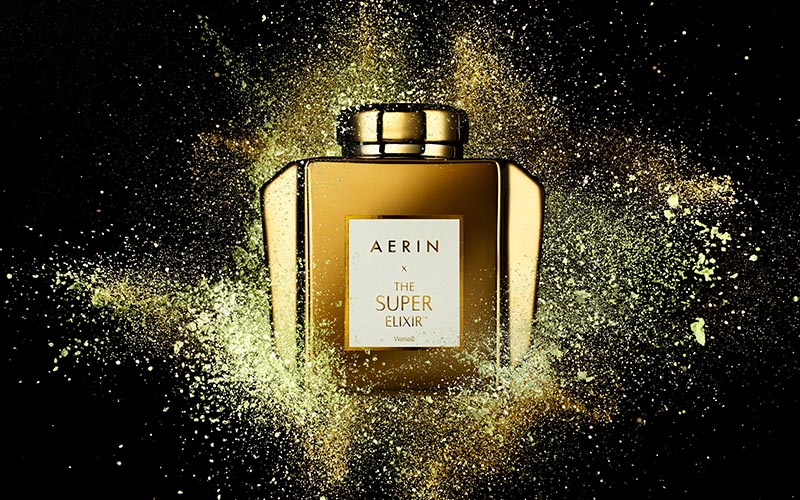 Your Super Elixir of alkalizing greens contains 45 organic whole foods in a supplement powder. How do you recommend drinking it?
As I travel a lot, each day is different, but I always start my wellness routine with two teaspoons of the The Super Elixir alkalizing greens every morning in 500ml of cold spring water or coconut water, for extra hydration. Some people like a stronger taste so they mix it in about 300ml of water, or in their breakfast smoothie. Our 45 key ingredients are not easily found in your everyday diet, they include horsetail, kelp, aloe vera, wheatgrass, and bio-live spinach. In addition to the wide-ranging benefits of being alkaline, their scientific combination is designed to boost energy levels, curb sugar cravings, and help with weight loss.
You're a perfect example of the crossover between wellness and beauty—living a healthy lifestyle is a good look! How do you approach eating healthily?
Thank you! I have noticed a correlation between wellness and beauty. If my body is replenishing and detoxing efficiently then it shows on my skin, hair, nails, and inner vitality. That's why taking the Alkalizing Greens can have a profound affect on the way I look and feel. I don't like to give too much advice about health and wellbeing as everybody is different, but people ask me what I do so I share my experience honestly. It's about balance, so no extreme diets or fitness routines, lots of water and fresh air, and a good dose of laughter. I don't tend to focus on what's missing; I prefer to focus on what I can bring to my life.
You created The Super Elixir with nutrition expert Dr. Simone Laubscher. How did you make the jump from an alkaline diet to the idea of creating a convenient supplement?
I thought that if my diet or lifestyle left me lacking in energy or vitality, then a lot of people might be feeling the same. We decided we wanted to share these bio-live, organic, plant-based supplements that had transformed my everyday life thanks to Dr. Simone Laubscher. Our supplements are designed to add to your life with healthy whole-food nutrition in a specialist blend that would be difficult to get in your every day diet. The Super Elixir alkalizing greens are vegan and free from dairy, gluten, preservatives, and synthetics.
You've attributed your alkaline diet to giving you an "alkaline glow" so you can go without foundation. What's your daily beauty routine?
I like to keep it simple… I believe in looking after the body from the inside out. The most important thing to me is how I feel, and I've found if my body is getting the nutrients it needs, then it shows on the outside. Since taking the alkalizing greens every day I have noticed the difference in my skin, a glow, and overall wellness. At 52, I believe that a healthy body and a balanced life come from a daily abundance of love, laughter, water and good nutrition.
In addition to a healthy diet, you're also in amazing shape—how do you keep fit?
When I was 20-30, I could get away without working out and rely on genes. By 30-40 I noticed doing 45 minutes to keep fit was optimum. At 40-50 it increased to an hour. Now after 50 I'm finding I do about one hour in the morning and something in the evening. Doing something I love and preferably outdoors.
After growing up in Australia, followed by moves to New York and London, you now live in Miami. What do you like most about the city?
I was born in Australia so I have an affinity with an outdoors lifestyle and that's one of the things I love about Miami. I love its year-round sunshine and living by the beach. My favorite way to start my day is a run on the sand. We are very lucky to live where we do and Miami is such a beautiful and magical city. I love that the Bahamas and NYC are just a couple of hours away. My favorite restaurants are at the Fontainebleau hotel—Scarpetta and Hakkasan. I also like Komodo on Brickell, Mandolin and Casa Tua. For shopping, I love exploring the Design District where art and fashion meet. I can find all my favorite brands there—places for lunch and interesting architecture. I also find myself at Aventura Mall where there's a great mix of high street brands and luxury brands under one roof.