Two summers ago author Emma Straub's best-selling novel, The Vacationers, was in everyone's carry-on. This summer, Modern Lovers, her latest work—about two sets of friends whose marriages spark and fizzle simultaneously over the course of a Brooklyn summer—is at the top of my summer reading list.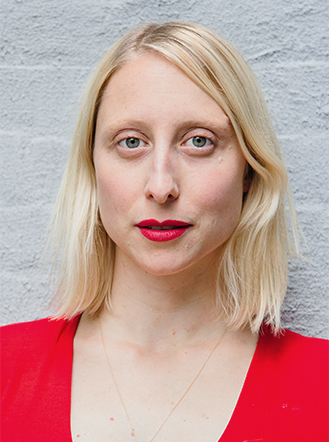 Your new novel, Modern Lovers, is set in Ditmas Park. You live in Brooklyn and like me, you grew up in New York City. How has New York influenced you as an artist?
I think New York City has influenced me as an artist by providing me with an ever-changing, ever-energetic base camp. There are always new interesting places to go, things to do, people to meet. Sometimes it can be exhausting, all those choices, but I can't really imagine living anywhere else.
You're the mother of two boys. Do you work from home? What's it like sticking to a deadline with a toddler and a new baby underfoot?
Ha! I'm not sure yet. I haven't written anything since my second baby was born. I do work from home, and so it's sure to be a challenge. Cross your fingers for me!
Your father, Peter Straub, is also an author. Did you know from a young age that writing was what you wanted to do?
I did, yes—I always knew that I wanted a creative life. I think it helped enormously to have a model to follow. I grew up knowing that it wasn't always exciting, or glamorous—that it was often lonely work. And yet I couldn't resist!
I'm really curious about how you start a project. What's your creative process? Do you begin with a character, a place or a phrase?
I usually start with some characters and a situation—a very loose premise. And then I try to write a very shaggy outline, to see what shakes out. Then I'll start in earnest, and write from start to finish. The outline always changes, but it's helpful to have to start.
Your last book, The Vacationers, was touted as the smart beach read of the summer and is about a family on vacation in Mallorca, Spain. What's your ideal vacation?
With two small babies, an ideal vacation would be if we picked up our house and childcare and summer camp and grandparents and plopped them all down on a beach somewhere. If anyone has a better way to travel with small children, please, holler!
What are you looking forward to reading this summer?
Stuart Nadler's The Inseparables, Rumaan Alam's Rich and Pretty, and Rae Meadows' I Will Send Rain!