The events firm, TINSEL Experiential Design, creates beautiful occasions from its Brooklyn-based studio in Dumbo. From a florist popup in an archway under Manhattan Bridge to a gala at the American Natural History Museum, TINSEL's artistic vision and attention to detail is evident. The three founders—Adette Contreras, Erica Taylor Haskins, and Liz Castelli—sang together in an a cappella group at college, and launched their company following individual careers in advertising and marketing. The harmony continues with each woman bringing her own area of expertise to the brand.
When TINSEL organized beautiful floral arrangements for a party I co-hosted at La Sirena with Assouline for the Aspen Style book launch, I talked to Erica about inspiration, working as a team, and favorite projects. She has also curated a selection of pieces for AERIN, from candles to place card holders, to help you entertain in style. See her edit here.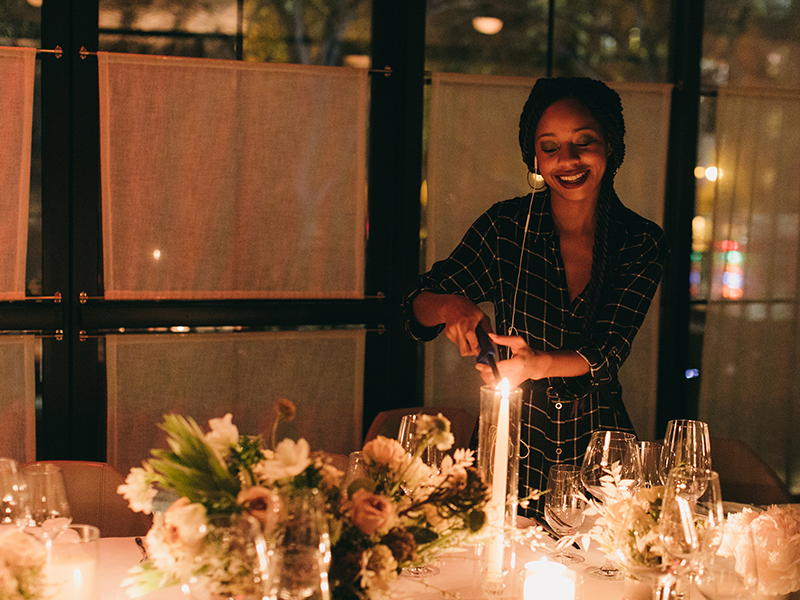 You've achieved a lot of success pretty quickly. What is the most important lesson about running a business you have learned so far?
In some ways it feels like we have been on this journey towards building a successful, scalable business for a lifetime. It feels like yesterday that we were literally a kitchen table operation, meeting on nights and weekends to figure out what this business could be. An analogy we often use is that we decided to build a ship as we were leaving the shore. With a lot of hard work, trial and error, quick pivoting, and a touch of luck, our ship is cruising right along—full speed ahead.
In the eight years that we have been in business, TINSEL has given me the opportunity to grow into myself as a woman in important, empowering ways. There are so many things I've learned about myself that impact every facet of my life. In no particular order of importance, key lessons are:
• Be conscious and vocal about your goals and the things you want. More often than not, the people you surround yourself with want to help you and want to see you succeed. Sometimes it's as simple as boldly putting those wants and desires out into the universe.
• Be specific about how you show others gratitude. It's easy to assume that the people in your life know how much you value them, but there is so much more weight to your appreciation when you articulate it clearly … and often.
• You have to be your own biggest cheerleader and self-advocate to get what you want in life. There will always be other people in the picture ready to tell you "no." Don't add to their argument by negotiating against yourself.
• You don't have to change the way you dress or speak to fit in. There is so much power in standing out. So much currency in building a personal brand. We're often told from a young age what it means to belong in corporate America, but the landscape of the business world is changing, especially in creative fields. It has only benefited our company to encourage our team members to be themselves. We say that tattoos, piercings, good shoes, and a bold lip—war paint—are on-brand for TINSEL.
• Understand the limits of what you know, then hire professionals to do the heavy lifting for everything else. My business partners and I are very good about establishing the roadmap for what we want our business to be. But the secret of our success has been to hire event producers who are more skilled than us. Having experts muscling through the technical parts of our infrastructure allows us to focus on the big picture.
• Base your decisions on a healthy split of numbers and gut instinct. We pride ourselves on being intimately familiar with our numbers and projections. But you get to a point where you have to make seismic decisions by trusting your impulses.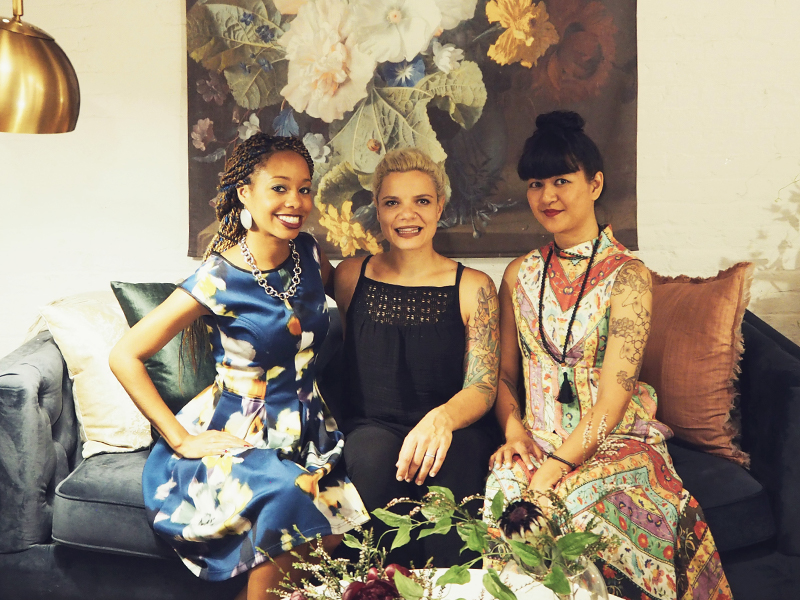 You clearly work well as a team—what do think each of you brings to the brand?
​I met my business partners Adette and Liz while singing together in college. We were pretty good friends but not extremely close. In retrospect, it's wild that we decided to start a business together and even wilder that this thing we've built is successful. At this point, we are connected at the hip, head, and heart. We speak the same language and often know what the other is thinking.
Liz is a former middle school science teacher. And although she looks like a total badass with her signature bleach blonde hair, tattoo sleeve, and piercings, that woman loves rules, systems and processes. Naturally, she leads all of our operations. She's also a natural mentor with endless patience. She jokes that after getting stared down by 11-year-olds for years, teaching our team how to do project reporting is a breeze. Liz is our How.
Adette is an art director and graphic designer by trade. She also has the most extra curriculars of any person I've ever met, with creative hobbies like ceramics, poetry, watercolor, yoga, simultaneously learning French and Swedish, picking up Spanish cuisine. She's a big-thinker and constantly pushes our company to grow into a bigger, bolder version of ourselves. Adette is our Why.
My background is in client service and business development, and that's still a lot of what I do for TINSEL. My role is to influence how our team members communicate with the clients and vendors to make them feel heard, understood, and valued. I make sure we are visible to the people who will help us grow. Often, that means attending industry parties and networking events to represent our business (not so secretly, my favorite part of the job). I am our Who.
Where do you find your inspiration?
As a former theater kid, I always find inspiration in big productions—whether for movies, television or on stage. I love the grandeur and scale of set design and costuming. Every detail has to have a purpose. And every element has to be visible without being comically out of scale. The same rules apply for events.
Right now, I'm really drawn to the artistry of Charles Pétillon's stunning balloon installations. The concept of single objects en masse is really striking, and I love that his pieces take something as simple as a latex balloon and make it grand. There's something there, too, that is a happy nod to the alchemy of events. It's our job to take everyday objects—tables, chairs, forks, knives—and create something memorable.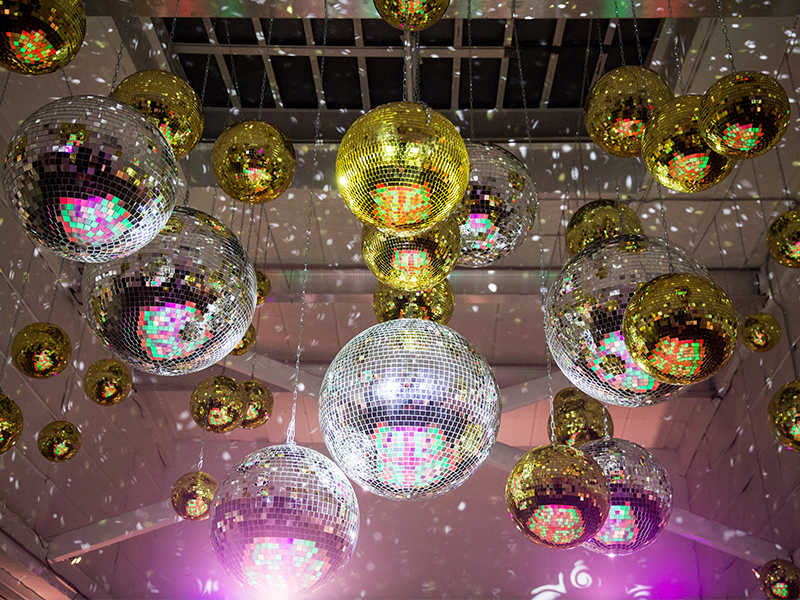 Describe your workspace and what you love about it?
​I love going into our office! Our space is well designed with splashy artwork and gold accents that feel very on brand. It's often filled with cardboard boxes coming in and out in advance of events so it's usually not picture perfect. We've designed it to feel cozy, loved, and lived in, with plush velvet couches so team members can camp out away from their desks (often with my French bulldog, Mayhem, snoozing on their laps). We play music all day that changes depending on the mood (often a pretty solid rotation of Sergio Mendes, Ella Fitzgerald, and Missy Elliott). Our whiteboards reflect the projects we have in play and the dream clients we are setting intentions for. And lucky for us, we often get armfuls of leftover flowers from events so everyone's desk has a fresh bouquet each week. There's just such good energy here.
What has been one of your favorite projects to date?
​Of late, the event I am most proud of is last year's Spotify holiday party. It was a huge, very complex endeavor that took months to plan, design, and produce. Just an elegant dinner that ballooned to a ​splashy, immersive party for 1,200 guests, ending with a live performance by Beck. Our team completely transformed the venue to create an electric experience that guests are still talking about. Everything just looked and felt so striking and unexpected. And best of all, our team made it seem so easy.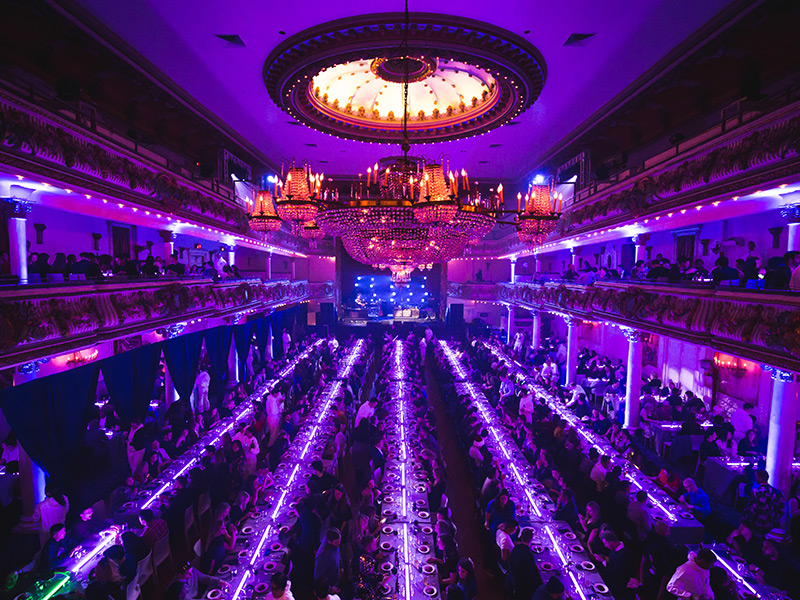 What are five essential elements when creating a successful event?
• Easy access to food and beverages. It seems strange, but guests sometimes just need something to do with their hands. And of course, some people need a few cocktails in the system to feel comfortable on the dance floor.
• Good lighting makes all the difference in the world. Solid lighting can transform a fluorescent auditorium into something moody/high energy/cozy/sophisticated/playful with just the flick of a switch. (No one likes to dance under bright lights.)
• Choose your own adventure options for guests who may not be as comfortable hanging at the bar or twirling on the dance floor. For large parties, we often recommend a mix of quiet lounges, engaging photo booths, familiar games and activities (think pool tables, backgammon boards), and unexpected twists (think haiku writers, 60-second novelists, mentalists, acrobats).
• Keep all five senses in mind. It's natural to focus on an event's visual design, menu, music, and entertainment. We also challenge our team to consider the remaining senses to make sure every event feels good, with a focus on comfort and textures—lush velvet furniture, cashmere throws, shantung tablecloths, carpeted lounges, ample seating, appropriate room temperature. And that everything smells good. In addition to fragrant flowers, richly scented candles are hugely helpful in creating an overall sensory experience. For the right clients, we'll burn sage or palo santo to really clear the air.
• A gracious host/hostess. No matter the occasion, each guest should be made to feel like they are the guest of honor. A warm welcome and genuine expression of gratitude goes a long way to set the tone for every celebration.
With such a busy work life, what do you do to relax?
​I love to travel whenever possible, with favorite recent destinations being Positano, Santorini, Tulum, and New Orleans. ​When not traveling, my husband and I love to cook decadent meals together and have friends over for nights in. In warm weather, I can often be found along the Brooklyn Heights Promenade, taking in the Manhattan skyline with my beloved French bulldog, Mayhem (May for short). I also try to have a full body massage twice monthly.