The work of textile designer and painter, Helen Dealtry is exquisite, capturing the fragile beauty of flowers with alluring colors and a lightness of touch. As well as textile designs, including a line of stylish scarves, Helen also creates original art in her Brooklyn design studio. For those who feel inspired by her pieces, she teaches a limited number of floral painting classes.
Helen painted the delicate watercolors for our scented candle packaging. She perfectly captures the fragrance of each candle in the collection: L'Ansecoy Orange Blossom, Uzés Tuberose, Caffarella Vine, Buckhorn Amber, Corviglia Spice, Tumbatu Sandalwood, Sintra Gardenia, Monserrate Rose, Salzburg Pine, Galatina Fig, Regent Garden, and Madaket Geranium—the lovely packaging makes them perfect for gifting. I asked Helen about her process, inspiration, and favorite garden.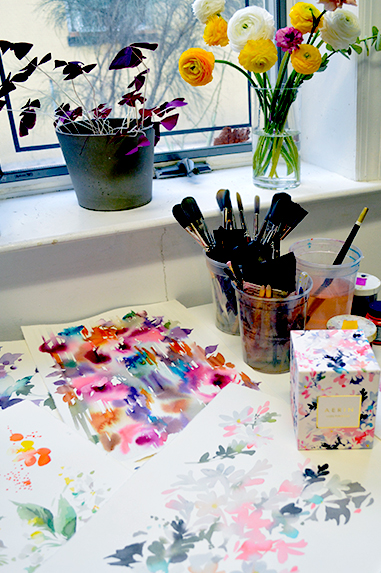 Some of your designs were inspired by Ikebana, the Japanese art of formal flower arrangements. What most appeals to you about Ikebana?
I love that each branch, each flower is selected for its relationship to the next. There's such respect for the individual elements, as well as for the space between. I'll take that over an overcrowded flower arrangement any day because it lets one really appreciate the individual beauty of each natural form.
What's your process when you are creating packaging or a design for one of your scarves?
I like to develop a narrative to begin. This could be a collection of any number of inspiring elements—images from books, vintage swatches, found objects, magazine tears… or in the case of perfume and candle packaging, a scent! From there I'll create a color palette to run alongside the story. Finally, I determine the type of marks/medium, which will depict the feeling most accurately. That could be watercolor, a clean graphing cutout or a scratchy oil pastel.
What is your favorite flower to paint and why?
The iris. I adore the color combinations that can be found in the iris family and the fact that their shapes are so fluid. Watercolor is the perfect medium to use when depicting this flower as the colors flow together naturally.
Is there a garden somewhere in the world that you love to spend time in?
Wisley Gardens are close to where I grew up in Surrey, England, and I have walked those gardens with my family a lot. The grounds are large enough that you can avoid other people and get lost if you want to. The rhododendrons in May are my favorite there, especially after some rain, which is guaranteed in Britain.
You also teach flower painting classes. What do you enjoy most about teaching art?
There are so many aspects to teaching that I love, but I think seeing somebody open up in the four hours they spend painting is my favorite. It's pretty terrifying coming into a room full of other people you don't know and to then put yourself out there in such a visual way. Often people are so tight and afraid when they arrive. By the time they leave they are smiling and have overcome a little of their fear. I couldn't ask for a better feeling than that. We have people that are designers and others who have never picked up a paintbrush who work next to one another, and it's just such a pleasure to see everyone encouraging their neighbor. Plus we have goods snacks.