The health and beauty benefits of saunas are long established—from detoxing to pore cleansing—but it is the new infrared sauna that has really caught my interest. Infrared rays heat the body faster, providing more effective results in less time.
New York-based HigherDOSE, with locations on the Bowery and 11 Howard Hotel in SoHo, offers individual infrared saunas with a choice of healing chakra lighting and a sound system to access your favorite playlist. In addition to infrared saunas, a current pop-up at SIXTY Hotel LES is offering infrared body wraps, infrared facials, and Cryo Facials through April 15, 2018. I talked to HigherDose founders, Lauren Berlingeri and Katie Kaps.
What led to you opening HigherDOSE infrared sauna?
Lauren: Katie and I met almost two years ago through a mutual friend. I had just left a startup called Aloha and was inspired to bring infrared to health and fitness based on what I learned from doctors and health experts while working there. Part of my job was to seek out health trends, and no product on the market made me feel the way the infrared sauna did. Once I researched the benefits of infrared for an article I was writing I knew it was going to be the next big thing.
Katie: I had recently left an executive role at Tough Mudder and was consulting for a detox center. Lauren told me her idea, so I tried the infrared sauna and was immediately hooked and eager to launch the company with her. Our backgrounds are very complementary (Lauren as a nutritionist and health coach and me as a financier and entrepreneur).
We started off by installing infrared heating systems in yoga studios (which was Lauren's original vision). Along the way, we became convinced New York needed a spa dedicated to infrared saunas since they were doing so well on the West Coast. New Yorkers are in love with the product, particularly because they're so stressed and it is a perfect way to chill out.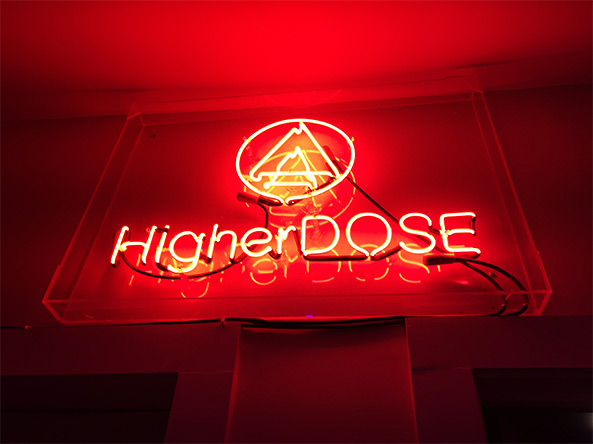 What would you say are the main health benefits?
Infrared is 7x more detoxifying than a traditional sauna, it lowers cortisol and increases serotonin. Full benefits can be found on the HigherDOSE website.
How often should we take an infrared sauna for maximum results?
We recommend once or twice a week as a baseline and three to four times per week for deeper results.
Since the infrared sauna is faster, does that make the experience more intense?
No, it is actually less intense than a traditional sauna as it is 150 degrees versus 212 degrees in traditional saunas.
Your individual saunas include healing chakra light therapy—how does that complement the benefits of the sauna?
This is an optional part of the HigherDOSE experience, but most people do use the light therapy while in the sauna. LED lights are used to grow more cells in plants and it does the same with the human body. Light therapy benefits mood as well as specific ailments within the body, and allows more energy to flow to certain chakras. It is often used in beauty treatments, for example red LED light for building collagen and blue LED light for killing the bacteria that causes acne.
In a nutshell ... red is energizing, blue is calming, yellow is awakening, orange is galvanizing, green is healing and promotes creativity, and violet promotes spirituality.