What was the inspiration behind your new fragrance, AERIN Hibiscus Palm?
Hibiscus Palm was inspired by a magical island escape. I find a trip to a tropical destination exhilarating, from the brilliant sun and lush beaches to the luxurious flowers and the sun-kissed days spent relaxing with family and friends. These special getaways fuel my creative spirit and my memories of exotic destinations provided my inspiration.
What type of woman did you have in mind when creating this fragrance?
Hibiscus Palm is a captivating fragrance—ideal for the woman going on a resort vacation or looking for a scent that is reminiscent of a tropical escape. It is well suited to warmer days and beach vacations. I also see Hibiscus Palm as a perfect honeymoon fragrance.
What are the unique ingredients in Hibiscus Palm?
I worked with Master Perfumer Harry Fremont on Hibiscus Palm Accord, created exclusively for the AERIN Fragrance Collection. It is an irresistible and unique combination of the dewy freshness of Palm Leaf and the breathtaking aura of Hibiscus Flower, resulting in a crisp, lush green scent.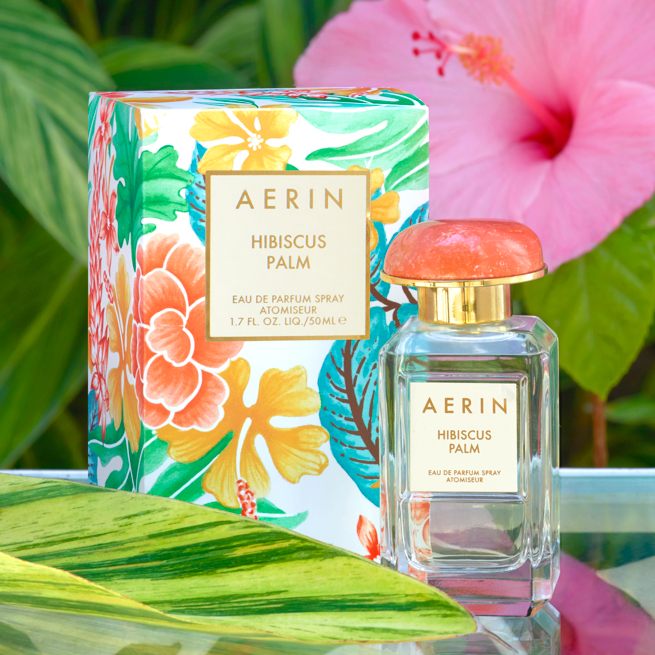 Can you tell us a little more about the packaging?
The exclusive print for Hibiscus Palm was initially inspired by Resort 2017. I was drawn to the abundance of tropical flowers and bright floral prints on the runway. The fragrance packaging is a vibrant combination of colorful florals and flourishing vegetation that captures the exotic inspiration behind the fragrance. The luscious painting style looks to vintage tropical prints to evoke abundant undergrowth and an alluring bouquet.
What is your favorite tropical vacation spot?
I recently traveled to Tulum, along the east coast of Mexico's Yucatán Peninsula, and fell in love with the culture, cuisine, and scenery. One of my favorite spots for a meal in Tulum is Hartwood, the restaurant is entirely outdoors and surrounded by jungle. It is authentic, comfy, and the food is delicious. Tulum's beautiful, pristine beaches have made it popular, but it is still possible to find serene areas that feel untouched. Hotel Esencia—the former private villa of an Italian duchess sitting in 50 acres of tropical gardens—is a charming hideaway.
What are your favorite activities on a tropical vacation?
I love to take a boat trip with my family and friends—a sunset cruise is always romantic. I also enjoy scuba diving with my sons. After a long flight, I like to wind down and immerse myself in a destination with a massage or treatment at a spa that incorporates local ingredients and techniques.
What are your essentials when packing for a tropical escape?
Sunscreen. Hat. T-strap sandals. Kaftan. Bamboo bag. A book.
How would you describe your style on a tropical vacation?
My style is a bit more laidback. I spend most of my time at the beach or at the pool, so long, flowy dresses, pretty printed or embellished cover-ups, and sandals are my go-tos.
What do you like to read when on vacation?
I love to hide away in a hammock or the beach and catch up on reading when I'm on vacation. I enjoy biographies about women such as Bunny Melon and Slim Keith and recently read Bunny Mellon, The Life of an American Style Legend, by Meryl Gordon.
What is your beauty regimen on a tropical vacation?
I always keep it simple. I make sure I have a lightweight sunscreen to keep my skin protected. Two essentials I take everywhere are AERIN Rose Lip Conditioner, the neutral hue is perfect for any occasion, and Estée Lauder Advanced Night Repair, which smooths and hydrates skin.
What's on your bucket list for tropical vacations?
I would love to visit the Playa Grande Beach Club in the Dominican Republic.
Do tropical destinations influence anything else in the AERIN collection?
Tropical destinations inspire many elements of the brand, such as our raffia collection, which includes a small and large version of the Natural Heart Raffia Zip Pouch—a perfect accessory both on and off the beach.
Do you read any travel magazines to help you plan an escape?
My favorite travel magazines include Departures and Condé Nast Traveler.
What are your travel tips when going to a tropical location?
Go local. Check in with your hotel concierge and ask for recommendations on local restaurants, shops, and beaches that they love.