The blogger, stylist, and designer, Julie Sariñana, joined me on a working trip to Tulum, Mexico, in January to launch the exotic new AERIN fragrance, Hibiscus Palm. Julie also appears in the launch video for the fragrance. I love her creative spirit and effortlessly polished aesthetic, and am excited to introduce her curated selection of products that speak to the natural beauty of the Hibiscus Palm shoot.
We found some time, after early morning yoga sessions, to talk about her style, recent travels, and entertaining.
You've said in the past that Mexico is a huge source of inspiration and it has been wonderful spending time in the country with you. Can you detail how Mexico influences your aesthetic?
I'm proud to have been born in Mexico and be a part of a culture that's so beautiful and rich in traditions such as Dia de los Muertos Posadas. I find inspiration in everything my country has to offer, the importance of family, music, food, and the bold, bright colors we are known for in architecture, traditional Mexican clothing, and art. All the beautiful prints and tiles we use, Frida Kahlo, and the stunning places you can visit, including Tulum, Oaxaca, San Miguel de Allende, Mexico City, and even pyramids! The list is endless. Like we say in Mexico, "como Mexico, no hay dos!" which means, "there are no two like Mexico!"
When you're packing for a beach vacation, what are your style and beauty essentials?
I always make sure to bring pieces that are versatile and easy to style for that effortless beach look. I pack straw hats because they add the perfect finishing touch, and I bring SPF lotion because I always protect my skin from the sun. Jewelry, especially dainty jewelry and bold earrings, bring my look alive, and because I have to smell great throughout my vacation, I always pack a rollerball fragrance—from now on, the Hibiscus Palm Rollerball, which is a perfect warm weather scent.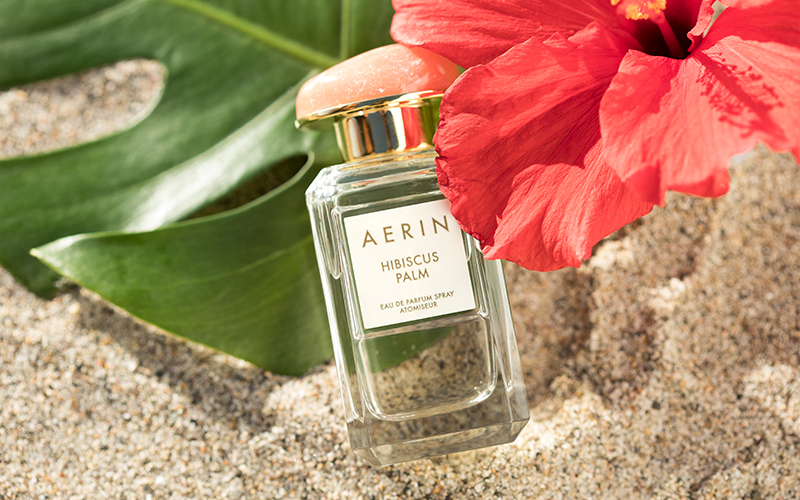 Your job requires a lot of travel, do you have any tried and tested tips to stay fresh on a flight and recover from jet lag on arrival?
Luckily for me, I'm always able to sleep on flights. However, I do find it easier when I don't wear any makeup because it allows me to put on under-eye masks or facemasks to help me look fresh after I get off the flight. I also drink a lot of water to keep my skin hydrated and glowing for arrival.
Any new destinations you've visited recently that you loved?
I've been fortunate to be able to travel to beautiful places all over the world so it's hard to pick just one. I do have to say I really loved spending time in Thailand recently. The people were so welcoming and sweet, and the food was probably one of my favorite parts—they had so many dishes and every single one of them was good! The night markets were definitely one of the coolest things to visit, with many fun stands to browse and shop. For me, all the fascinating little islands you can visit around Thailand make it a top destination. I'd love to go back and see more.
We enjoyed a beautiful dinner at Hotel Esencia, with a table set with exotic flowers and matching floral tablecloth, napkins, and plates. How do you add a personal approach to entertaining at home?
It's all about the little details. I always stop by my favorite florist to pick up flowers and greenery and then I make my own arrangements. It's my personal touch that I love to do. I always give my guests the arrangements to take home as a memento of the evening.