Spanish singer-songwriter, Lourdes Hernandez—whose stage name, Russian Red, speaks to her favorite scarlet lipstick—moved to Los Angeles from Madrid in 2013, where she met and married Zach Leigh. Zach specializes in restoring L.A.'s architectural gems, and the couple's labor of love—restoring a landmark Arts & Crafts church in the historic neighborhood of Highland Park—is now a stylish wedding venue called The Ruby Street. I talked to Lourdes about city weddings, the differences between L.A. and Madrid, and the joy of breathing new life into an old building.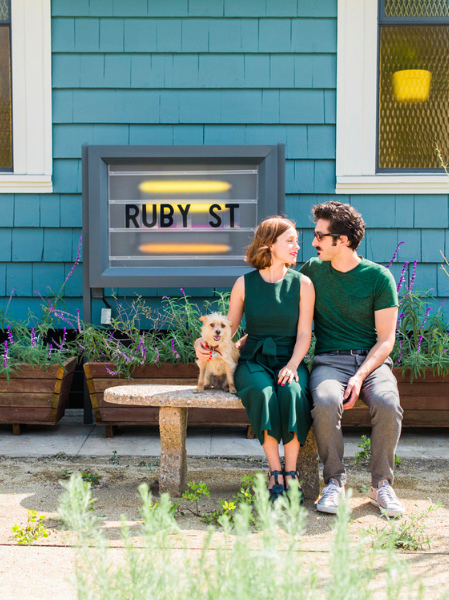 Ruby Street looks like a magical venue for an intimate wedding. What gave you the idea to restore it?
Zach and I had been dating for a couple of years, and while I was taking a break from music, we wanted to come together for a creative project. When we found this beautiful American Arts & Crafts movement church for sale, we knew right away this was a dream project. In the beginning, we had no idea where it was going to take us, but we recreated the basic floor plan, adding a few details and following the renovation principles that this historic neighborhood required. Before the space was even finished, we put together a music show, and literally the day after got an email from a bride looking for a venue. We realized Ruby Street was rapidly creating its own fate.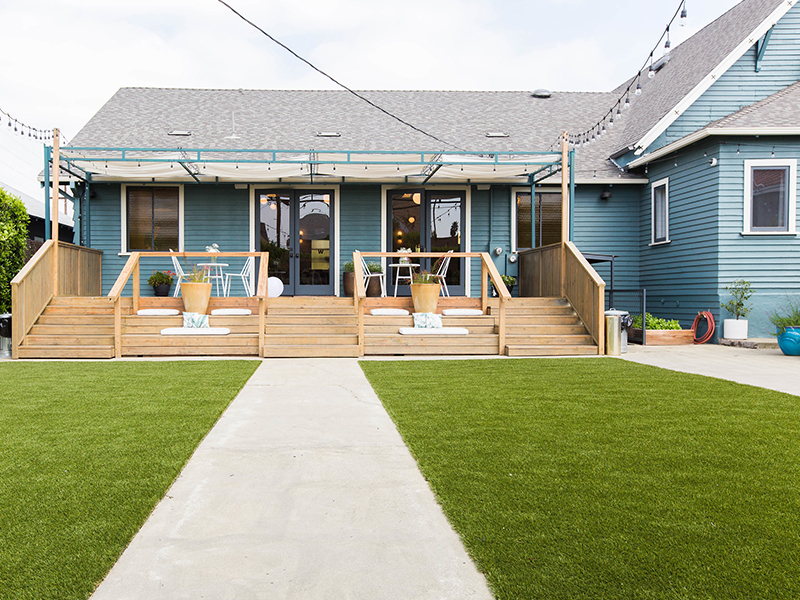 Your own wedding took place at Ruby Street in August last year. I have noticed a number of couples opting for city weddings rather than a country venue. Do you think it is a new trend, and what do you think are the benefits are of having a city wedding?
It is a bit of a trend, but it is mostly a convenient and budget-friendly choice. With venues like Ruby Street you get to bring your closest family and friends together in the city you live to have a relaxed, super charming celebration.
The church's stained glass windows were retained in the restoration, and bathe the venue in beautiful colors. What other features did you decide to keep and what did you add?
We kept the vaulted structure in the worship hall, most of the stained glass windows that were installed in the 1970s, and a broken old piano we found on the side of the building that we painted and added light bulbs to, turning it into an art piece. We've placed it underneath a kissing scene collage that pairs nicely with the purpose of the venue.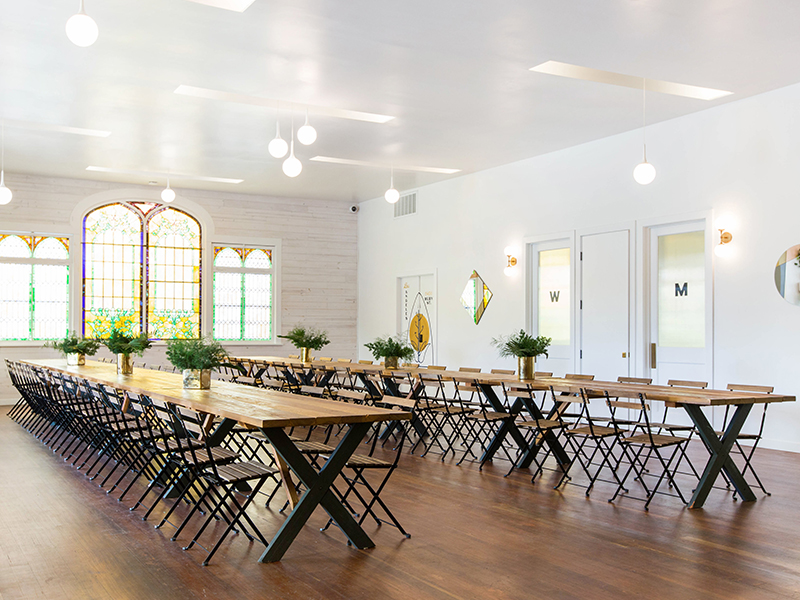 You moved to L.A. from Madrid. What are your favorite things about each city?
My favorite things about Madrid are its streets and improvisational spirit. What I love about L.A. is the potential synergies this city creates, and the fact you get to live in eight cities within one.
There is a lovely outdoor space at The Ruby Street. What was your approach when creating it?
The backyard used to be a cemented parking lot behind the church. It was open to the alley and there were no plants or structures of any kind. We added grass and trees and installed a fountain for a Californian take on a secret garden. We built a wooden deck and a bar and just turned that whole empty space into a dreamy ceremony backyard! If the bartenders forget their lemons, they can just pluck them off a tree. And on off-nights, when we host friends for simple BBQs, we use veggies and greens that we've grown back there.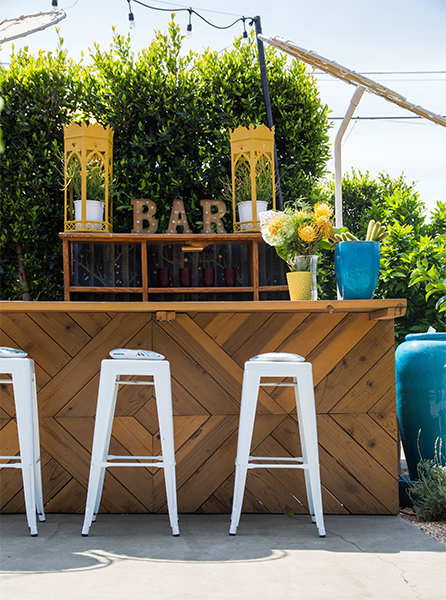 6408 Ruby Street, Los Angeles; 626-658-7829