Milan-based designer Luisa Beccaria is known for feminine dresses that are the epitome of romance (AERIN Tastemaker, Cleo von Adelsheim, talked to us recently about her gorgeous custom-made Luisa Beccaria wedding gown). As well as her lustrous dresses, I also fell in love with the daywear Luisa Beccaria sent down the catwalk for Fall 2017—a woodland-inspired collection, reflecting the label's trademark luxury via velvet, chiffon, knits, and tweed in dusty pinks, pale blues, and rich browns.
Luisa's eldest daughter, Lucilla Bonaccorsi, joined her mother as a co-designer in 2006, bringing her own contemporary vision. I talked to them about how they combine their aesthetic, what inspires them, and the dynamic of a mother-daughter design team.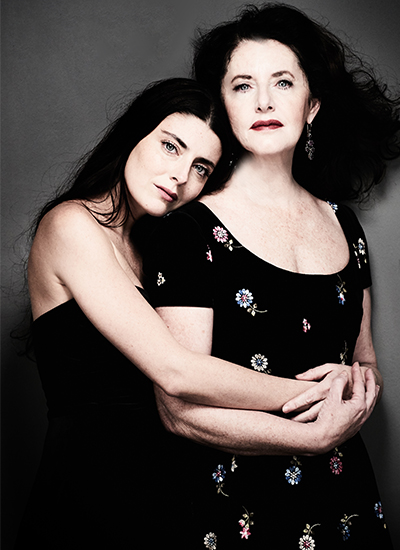 Your beautiful collection is unapologetically romantic. Do you have a similar aesthetic?
Luisa: Well, we share a neoromantic view of life and fashion, but of course we have had different experiences as we are from two generations and these little differences become a perfect match. We complement each other: the mother-and-daughter duo is sometimes a challenge, but it is also an incredibly creative opportunity. I founded the Luisa Beccaria fashion aesthetic many years ago and I worked alone for many years, but I believe that creating room for Lucilla was key for my life and for my company. Two makes you feel stronger, it is much more than the double of one!
Lucilla: Aesthetic has a deep meaning: it touches both theoretical and everyday aspects of life. Together we look at a common ideal and our different perspectives make every dress, every look, every creative occasion, a unique experience.
Has the dynamic of your relationship changed since you started working together?
Luisa: All relationships change over time, especially the one that bonds a mother and a daughter. We grow together; we share experiences, ideas, and artistic impressions. It's so exciting because we face the fashion world and life together. I have been the one teaching for some years, Lucilla has absorbed the whole aesthetic and is now the perfect testament to our brand. Lucilla's feelings contribute a lot to the current mood.
Lucilla: When I started co-designing our brand I was young, almost the same age as my mother when she began. I think the relationship changing is quite natural and it's positive: we understand new realities, we go deep in our relationship, we share complementary moments. Maybe it's not always easy, but it is so important in both the familial and working life: you have constantly new incentives.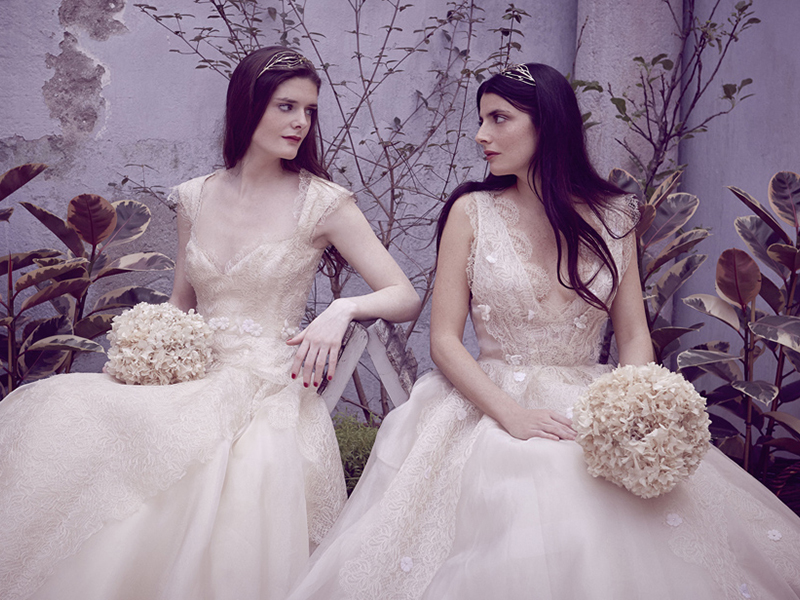 Lucilla, I read that you made your runway debut for your mother as an 8-year-old, in a gold brocade dress and with a flower in your hair. What's your memory of that experience?
Lucilla: It was Haute Couture, a sort of magical world. And I was on a Paris runway feeling like a princess. And I was with my mother, with my family, sharing an important moment.
Luisa: She was so young… but I remember she was determined and romantically fierce. I wanted Lucilla and Lucrezia, my two daughters at that time, to share with me such a wonderful and unforgettable moment. Lucilla was incredibly involved, Lucrezia seemed a bit displaced.
I love to hear about a designer's creative process. Where do you both find inspiration for your designs?
Luisa: It can be a painting, a natural view, the setting for an opera, a classic novel or the sudden impression of a distant journey… inspiration is almost everywhere. You need to find it, understand it, and then translate it in your own original creation.
Lucilla: Art, nature, real women who are proud of both their independence and femininity.
Do you think your family bond gives you a better understanding when creating the collection?
Luisa: My family is my life and each of my five children inspires me and has been part of fundamental changes and moments in my career. For example, when Lucilla was born I opened my first store, with Lucrezia I started my children's line, with Ludovico haute couture shows in Paris, with Luna the limited edition, and Luchino brought the worldwide expansion and the celebrity buzz.
Lucilla: The dynamic between individuality and family relationship is so important. We are all very close, but we never give up our particular feelings. All these challenges and encounters give inspiration and tangible solutions, in the creative process and also in our ways of speaking with our customers and the public.