I'm fascinated by The Metropolitan Museum's new exhibition, Manus x Machina: Fashion in an Age of Technology. While handmade has come to represent elevated haute couture, and machine-made, mass production, the exhibition explores how blurred those lines actually are. From the invention of the sewing machine to the arrival of the 3D printer, innovative developments in technology have actually enhanced and advanced all areas of fashion.
As well as providing a deeper understanding of couture houses, Manus x Machina is also a visual feast. Highlights include a wedding ensemble by Karl Lagerfeld for House of Chanel, with an intricately embroidered train that took 450 hours of needlework. There's also an evening dress by Yves Saint Laurent with hand-finished nude silk gauze and bird-of-paradise feathers, as well as a dress by Iris van Herpen of hand-stitched, laser-cut feathers. The sheer artistry of pieces such as these, whether made by hand, machine or both, never ceases to amaze.
Manus x Machina: Fashion in an Age of Technology, The Metropolitan Museum of Art, May 5-August 14.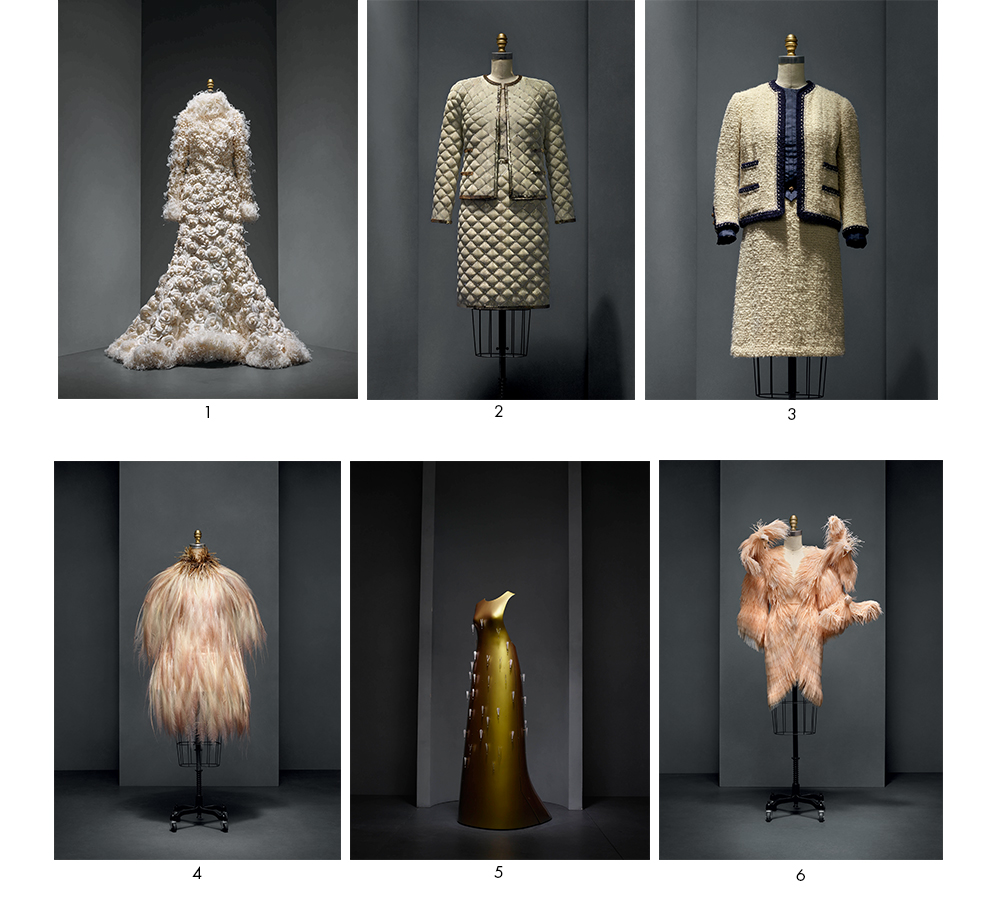 Header Image
Wedding ensemble, Karl Lagerfeld for House of Chanel, autumn/winter 2014-15 haute couture; Courtesy of Chanel Patrimoine Collection; The Metropolitan Museum of Art, Photo © Nicholas Alan Cope
1
Wedding ensemble, Karl Lagerfeld for House of Chanel, autumn/winter 2005-6 haute couture; Courtesy of Chanel Patrimoine Collection; The Metropolitan Museum of Art, Photo © Nicholas Alan Cope
2
Ensemble, Karl Lagerfeld for House of Chanel, autumn/winter 2015-2016 haute couture; Courtesy of Chanel Patrimoine Collection; The Metropolitan Museum of Art, Photo © Nicholas Alan Cope
3
Suit, Gabrielle "Coco" Chanel, 1963-68 haute couture; The Metropolitan Museum of Art, Gift of Mrs Lyn Revson, 1975; Courtesy of The Metropolitan Museum of Art, Photo © Nicholas Alan Cope
4
Evening dress, Yves Saint Laurent, autumn/winter 1969-70 haute couture; The Metropolitan Museum of Art, Gift of Baron Philippe de Rothschild, 1983; Courtesy of The Metropolitan Museum of Art, Photo © Nicholas Alan Cope
5
"Kaikoku" Floating Dress, Hussein Chalayan, autumn/winter 2011-12; Courtesy of Swarovski; The Metropolitan Museum of Art, Photo © Nicholas Alan Cope
6
Dress, Iris van Herpen, autumn/winter 2013-14 haute couture; The Metropolitan Museum of Art, Purchase, Friends of the Costume Institute Gifts, 2015; Courtesy of The Metropolitan Museum of Art, Photo © Nicholas Alan Cope