Cabana magazine founder Martina Mondadori Sartogo's name is synonymous with global style. The Italian publishing heiress, who grew up in a Renzo Mongiardino-designed home in Milan, and spent years traveling and collecting, has arguably created the most luxurious magazine in the world. Each biannual issue boasts a tightly curated selection of homes captured by photographers such as Miguel Flores-Vianna, plus stories written by a host of tastemakers and aesthetes. Printed on weighty paper with covers swathed in actual fabric or wallpaper, Cabana's pages embrace a sophisticated, bohemian aesthetic that is richly layered and deeply inspiring.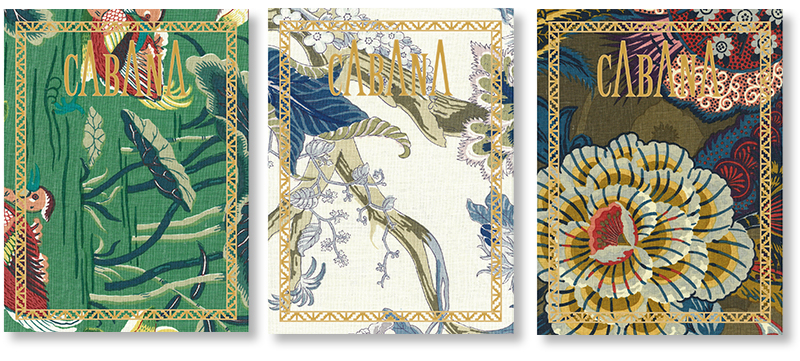 Cabana magazine is unlike any other publication on the newsstand. What inspired you to create it?
I have definitely been influenced mainly by designer Renzo Mongiardino's work and by traveling, mainly to Middle Eastern countries. But besides my childhood inspirations, about four years ago I started perceiving a shift in taste, a return to patterns, layering, and the desire to surround oneself with atmosphere and coziness rather than conceptual, rigid minimalistic design. I saw this in the fashion world with the rise of Alessandro Michele's Gucci, at International fairs with the success of Frieze Masters and Tefaf, and at Milan design week with the success of Dimore Studio. I started connecting dots and decided to make a sort of "manifesto" for this visually rich design movement. And the manifesto turned out to be Cabana.
With so many magazines shuttering or moving to digital, why do you think people have responded so well to it?
We conceived Cabana as a magazine but it is actually more than that. It is much closer to a book because people do not read it then throw it away, they keep it. The layout plays a huge role too—in times when we scroll through images all day long on the web and social media, you want physical photographs to actually feel timeless and visually rich. Printed magazines cannot, in my opinion, follow the digital layout and just be a series of small images.
Cabana's covers are hotly anticipated (and Instagram gold). What do you look for when choosing a fabric or wallpaper for the cover?
First of all, we always look for many different patterns and therefore different covers for the same issue. It has helped define the Cabana brand and turn it into a collectible item. I feel that the bigger the pattern, the better. When cutting the fabric, if you have big patterns then literally every single cut (so every single cover) is unique. I not only have a favorite pattern for each issue, I also look for a specific cut within that pattern. I have built my personal collection of all the issues.
I have heard that you inherited your father's love of collecting. What do you collect and where do you like to treasure hunt?
Yes I definitely did inherit a passion for collecting and an eye from my dad. He would take me to museums, antique dealers, and flea markets. Over time, I developed a love for works on paper and ceramics. But I do feel that collecting should evolve over a lifetime. Something might spark your imagination on a trip or while visiting a museum or just by reading a book. And you can start all over again—it is almost like a quest!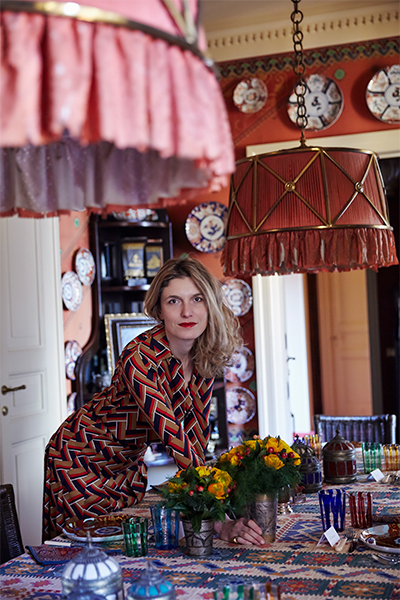 You have been selling a curated selection of products through 1stDibs. Do you have any plans to launch a Cabana store (e-commerce or brick-and-mortar)?
Yes that is definitely in the plans. Something to look forward to for 2018!
You have traveled extensively, where is your favorite place to visit and why?
I definitely have a soft spot for the Middle East but at the end of the day my favorite place to visit is still Italy. There is so much to see there, it really feels like a huge playground for people like me who love discovering beauty. And within my country, I would recommend Sicily, Bologna, and Naples.
I have such admiration for women entrepreneurs. What is the best lesson you have learned launching and working on Cabana?
I feel very lucky as I am driven daily by my passion for what I do. I throw myself 100 percent into projects and think about new ideas and new possibilities endlessly, on holidays and weekends too. I firmly believe and support women entrepreneurs, as I feel our added value is our capacity to think laterally. But the most important thing in my day-to-day work is the team of people and contributors I surround myself with and that I like to call the #bigcabanafamily. I share ideas with them, hear their suggestions, and nothing is more precious to me than their insight. This teamwork is the achievement I am most proud of.
As a working mother, I'm always curious to know how other women do it. You and your husband are raising three children in London, any tips?
Gosh, sometimes it is hard! It is all a matter of being organized (or trying to be), and finding the right energy to manage everything. This is why I feel sleep is so important. To me, it is what helps me keep balanced. I also love sharing my work life with my kids, at least my two boys who are now nine and seven. I go with them to exhibitions and they see me browsing books at weekends. They say they are bored each time I mention Cabana but then they ask me questions and even write about the magazine at school, which makes me rather proud.