When she's not traveling the globe as a humanitarian aid specialist, Maryam Montague is overseeing M.Montague, a socially responsible lifestyle brand that encompasses a hotel, design sourcing services, a homewares souk, and popular blog. I am intrigued by this Morocco-based mother of two, who manages to juggle such a multi-faceted career.
There is a common thread of social responsibility running through all your different endeavors. Tell me about your mission to "Be Good. Make Good. Do Good" with the M.Montague brand.
My background for the last two decades has been in international humanitarian aid. In Africa and Asia, I have worked on efforts as varied as fighting child labor, combatting maternal malnutrition, training human rights organizations, and running women's voter education programs. So I knew when it came to my own lifestyle brand, M.Montague, that there would be an important element of social responsibility. I sum it up as: Be Good. Make Good. Do Good.
Be Good: Walk the talk in my business and be what I espouse. Every morning I read a series of personal values (I keep them in my iPhone) that remind me of the person I want to be.
Make Good: Create and curate products that give back and create social impact. My shop, the M.Montague Souk, gives back on the issue of girls' empowerment through a charity I founded with my husband.
Do Good: Use my business and platform to raise awareness about social justice and girls' empowerment. I just gave a TEDx talk on the topic, Coexistence or No Existence. We have to figure out how to live on this planet together.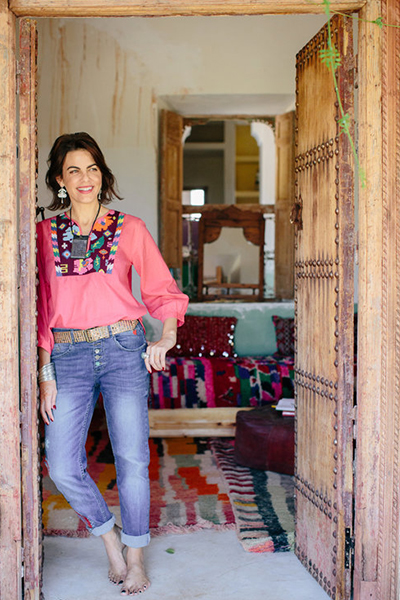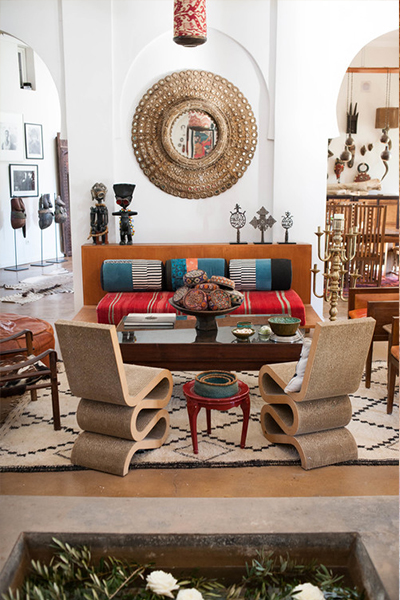 Your blog, My Marrakesh, is a showcase for Moroccan interior design, fashion, travel, cooking, and more. I hear you're also about to debut a podcast. Will it be an extension of the blog or have an entirely different focus?
I started my blog around eight years ago. I was running a prisoner rights program at the time and I craved beauty and light to counterbalance the sadness I saw in my work. My blog is a chronicle about life, decorating, travel, and everything I love.
I am in the midst of making a podcast! It's a spinoff of the blog and a place for all things Moroccan lifestyle—food, design, culture, with a good dose of storytelling. It launches in the Spring, so stay tuned.
With the publication of your first book, Marrakesh By Design, in 2012, you successfully channeled the blog into print. Any tips for other bloggers who dream of turning their work into a book?
Blogs are a great place for publishers to see the (unedited) work of writers and photographers so as to assess their natural talents (and their popularity). I was lucky enough that a publisher came to me and was so excited when after publication the editors at Amazon named Marrakesh by Design a Best Book of the Year.
I would advise bloggers out there to make their blogs a reflection of the book that they want to write, divided into mini-chapters. They should show publishers what they are capable of.
In 2009, you and your husband, architect Chris Redecke, turned an olive grove outside Marrakesh into the Peacock Pavilions eco-resort. How did that come about and what do you love most about living there?
An international nonprofit organization had sent me to run programming in Morocco and it was love at first sight! When it came time to leave for our next posting, we simply weren't ready to go. While we adore the hustle of the Marrakech medina or old city, the energy was a bit too chaotic for us as at home. So we bought an olive grove 20 minutes from the city and set out to design, build, and decorate a private sanctuary that we would open to guests. We are a retreat destination, welcoming retreats of all kinds—yoga, pilates, dance, photography, styling, painting, life coaching etc. We also love hosting celebrations, family gatherings, and girlfriend getaways. I have so much fun working with our team to create very personal experiences for our guests.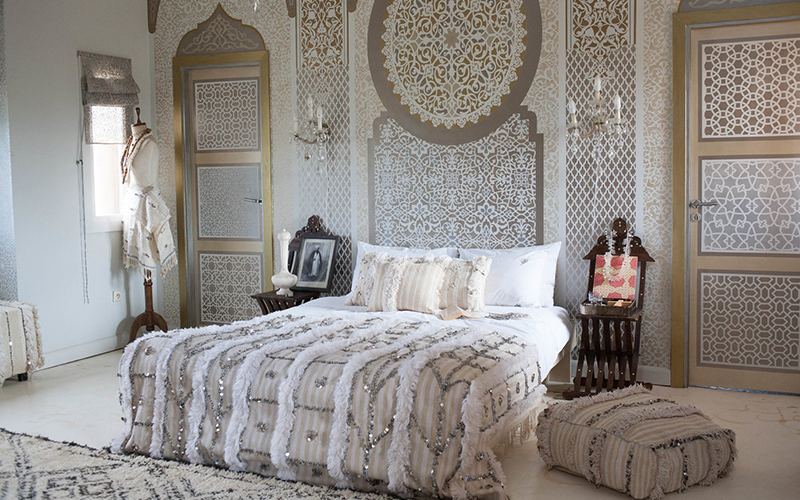 You have a great eye for design so I love that you've curated your own shop, the M.Montague Souk, within the hotel and online. What's the most memorable thing you've found shopping in Marrakesh's souks?
I created The M.Montague Souk for the modern woman who travels off the beaten path, and wants to know the story behind the items she purchases. It's all about #tribalchic for the urban nomad. Over the years, I have found so many incredible things in the Moroccan souks but I admit that textiles are my favorite things to purchase. In particular, I am a rug junkie and nothing makes me happier than curating collections of vintage rugs for the M.Montague Souk. They are truly artwork for the floor, no matter if your style is traditional or modern. I also have an obsession with vintage caftans, which I wear, display, and if they are too far-gone, use as trim for cushions, poufs, and curtains.
A portion of the proceeds from Peacock Pavilions and the M.Montague Souk go to Project Soar, a non-profit that you started at home in Morocco. I'd love to hear more about it.
No one is more vulnerable than adolescent girls living in poverty in the developing world. These girls are at risk of dropping out of school, becoming girl brides, girl mothers, and then starting the whole cycle again. So empowering girls is the investment that can change a whole future generation. That is why my husband and I founded Project Soar, a tax-deductible non-profit organization. All girls deserve a chance to be the best version of themselves, confident that they are strong, smart, capable, and worthy.
We have served over 250 girl beneficiaries through after-school activities. We provide classes in sports, art, health, and empowerment. We also provide academic support (language classes, as well as physics and math); it's tough for girls to complete homework when their own parents may not read or write. We give eye tests and purchase eyeglasses to make sure girls can see the blackboard at school. We also distribute an innovative period kit. Did you know that many girls drop out of school because they get their periods and can't afford supplies? Take a peek at this clip that Meryl Streep did with us on this very subject that was shown on CNN.
All girls who attend Project Soar take the Project Soar Pledge to stay in school. And it's working! For the recent Day of the Girl, two of our girl beneficiaries were just invited to the White House, along with the Project Soar Field Manager and Field Coordinator, to launch the new We Will Rise film with Michelle Obama. I couldn't be prouder or more excited.
We have recently rented a second building so that we can provide a safe space for girls to do their homework and take classes. We are currently fundraising to renovate the space and to expand to new sites. We are also interested in brand collaborations to help raise funds for Project Soar. If your readers would like to make a donation, they can visit our website. For collaborations, I can be reached through the website. I am also available to speak at events and to groups about girls' empowerment issues. Together, we can help make the world a better place for girls.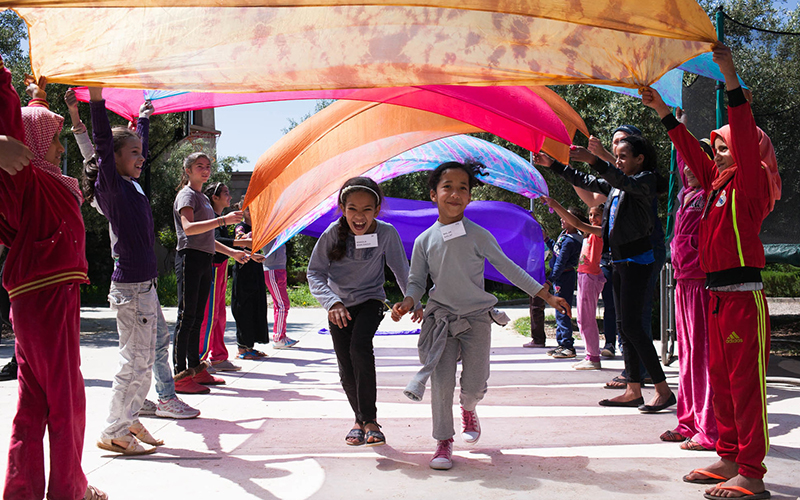 Morocco is such a magical place. My latest fragrance, Tangier Vanille, was inspired by the wonderful mix of scents in the markets and gardens there. Where are some of your favorite places in the country?
I am obsessed with blues so it's no wonder I love Morocco's blue city of Chefchaouen. It is awash in the color. I recently sourced a number of antique doors and beautiful old carved panels from Chefchaouen—they serve as a reminder of one of my favorite places in Morocco. Also, for clarity, nothing beats spending time in the Sahara desert. The ochre color is mesmerizing and the sand dunes have a hypnotic effect. I always have breakthroughs when I am there.
As a busy working mom, I'm always curious to hear how other women strike a balance. What's your strategy for juggling it all?
In addition to my new podcast, I am launching a new social impact business in 2017 with my daughter, Skylar. More generally, having two teenagers in the house always keeps me on my toes (not to mention the tasks associated with being den mother to 100+ Project Soar girls). So time is a precious commodity, indeed. Here are a few of my secrets for (sort of) keeping on top of it all:
Hiring a personal kickboxing trainer who comes to my house three times a week. Yes, it's pricy but what can be a better investment than my health?
Drinking a daily Cordecyps mushroom elixir from Four Sigmatic (for stamina and energy) and taking an Alpha Brain supplement from Onnit (for memory and focus).
Using a time management technique called the Pomodoro method—it's doubled my productivity.
Having a part-time virtual assistant (mine lives in Vienna!)
I try to do "one special thing" with my daughter daily (a walk, a face mask, or bullet journaling together). I also schedule day dates individually with my kids where we go out for several hours one-on-one; that's when I find out what's really going on (forehead smack).
P.S. These days, I love Instagram (especially yours, Aerin!). I would love to connect with people there, through @mmontagueliving or @peacockpavilionshotel