Mercedes Salazar is a Colombian jewelry designer who creates vibrant, eye-catching pieces that speak to the natural world. I think the traditional techniques she uses to create the fruit, birds, tassels, flowers, and beads that appear in her jewelry is part of their appeal, and I'm excited to be adding her work to the AERIN collection. Mercedes' Rose Mallow Earring is perfect for a sunny vacation—choose from neutral white and natural or red and orange to add a pop of color to an outfit. I took the opportunity to talk to the designer about her artisanal approach, inspiration, and her favorite places in Colombia.
How important is it to you to preserve traditional crafting techniques when making your jewelry?
It is imperative. When you understand that you are able to preserve ancestral artisanal techniques with your designs, you acquire a commitment to your country, your roots, and your culture.
What was the inspiration behind the AERIN x Mercedes Salazar Rose Mallow Earring?
I was inspired by the flora and fauna of Colombia as well as the raffia weaving technique used in a little town on Colombia's Caribbean coast. I wanted to recreate the hibiscus flower that grows in the warmer regions of the tropics. I believe its form and silhouette evoke the subtlety of the aroma of Aerin's new fragrance, Hibiscus Palm.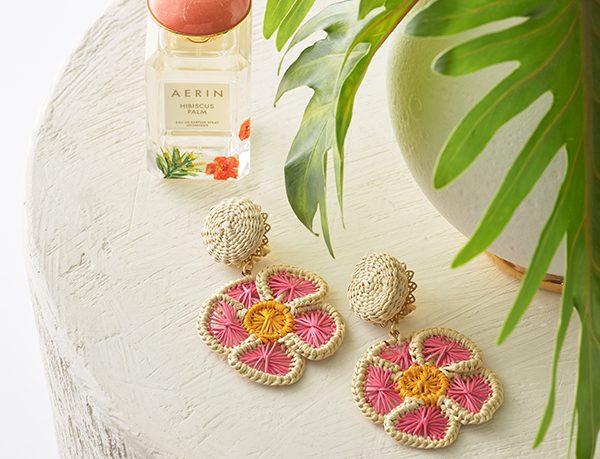 Do you sketch and create in a specific place? Can you describe it?
I usually sketch at my desk on the third floor of La Casa de Mercedes, our workshop in Bogotá. It is an open space with a huge wooden table where I can gather materials, images, colors, and anything I need to develop an idea. I also like to design at my farm in Tenjo, Cundinamarca, where I have a little table right in the garden with views to an incredible mountain. My bed at home has also witnessed many of my sketches.
What are your five must-visit places in Colombia?
The Dorado Reserve in the village of Minca. You can admire the sea and the mountains covered with snow from the same window. It's also an ideal location for world-class bird watching.
Andres Carne de Res in Chía, because it's the best restaurant in town. Spending a sunset tasting traditional Colombian food and drinking aguardiente is a must.
The Paramo of Chingaza because, geographically, it's a marvelous place near Bogotá to breathe fresh air.
The Sierra Nevada of Santa Marta is an ideal spot to learn from our elder brothers, to reconcile with oneself and the universe.
The Deep Blue Hotel on the island of Providencia. The hotel is spectacular and Providencia is hands down the most beautiful island in Colombia. Eat at the Café Studio, which serves dishes that celebrate authentic island food.
I know that you love to travel, but what is the first thing you do when you get home after a long trip?
The first thing I do when I get home after a trip is be thankful for the place where I live and the family I have.