With her unique personal style—a look that's both elegant and playful—it's no surprise that Peony Lim came to the fashion world's attention as a street style star. But where other oft-photographed show-goers might have fallen prey to passing trends, Peony stayed true to her sartorial roots. Scrolling through her site is like a breath of fresh air.
Peonies are one of my favorite flowers so I can't resist asking if there is a story behind your first name?
My father is Chinese and it's traditionally a Chinese flower. My mother is English, and an amazing gardener, so the two just came together naturally in my name. I love it.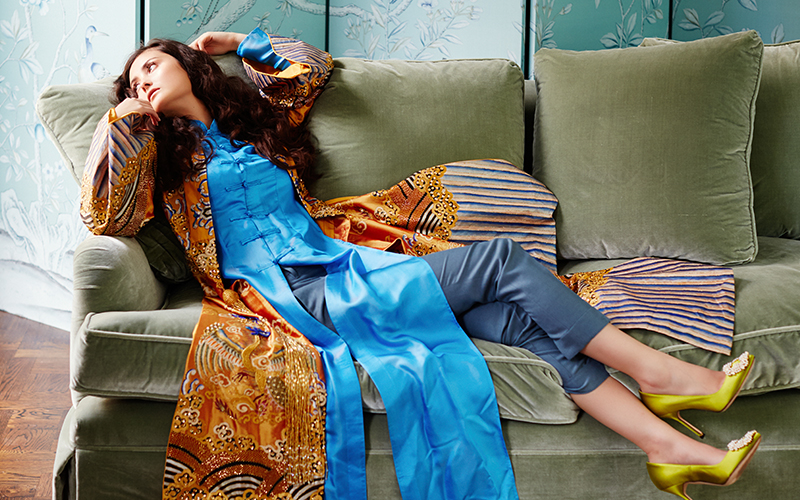 Traveling is one of my greatest sources of inspiration. All of my fragrances are based on places I've been; the latest, Tangier Vanille, was born from a trip to Morocco. How do your frequent trips influence you?
I think travel influences you every day. From your tastes in food to fashion. More than that, it opens your eyes to other lives and cultures, which hopefully makes you more imaginative and compassionate. I think more than anything else, my understanding of beauty has been broadened by travel. The beauty of an alien landscape or unknown face, it makes you realize that beauty is seen in the exceptional not the homogenized.
You curate an online shop on your website. What are some of your favorite brick-and-mortar stores to browse or buy in?
There is a vintage shop called Enjoy Clothing in Truro, Cornwall, which is hidden. I always find something random and fun there. I love looking around antique shops, you can always find something you want on Lillie Road in Fulham, London. The Conran Shop is also a great source for presents. And, personally, I can always spend time in Venice shopping.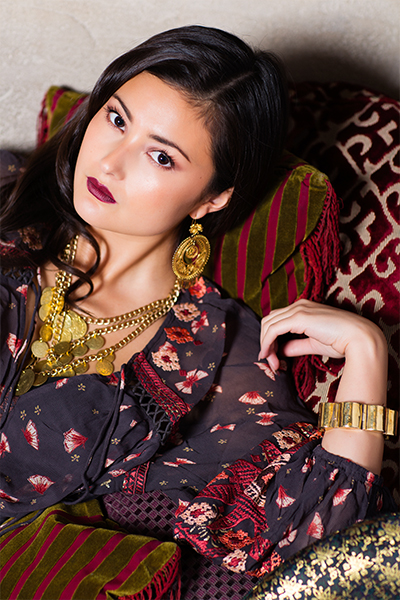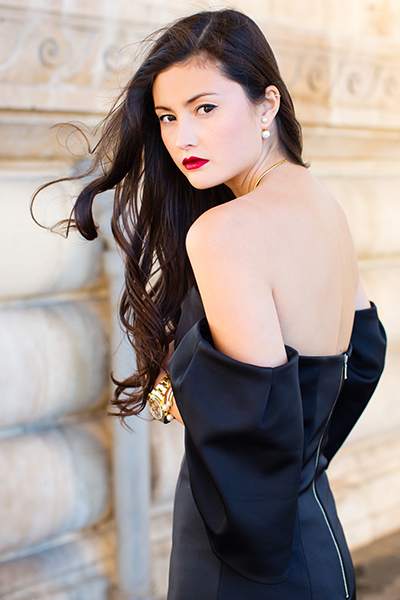 In addition to blogging, you recently launched a fashion label under the same name. I love the floral print smock based on a traditional Cornish fisherman's top. How would you describe your brand's aesthetic?
My grandmother used to wear fisherman's smocks to garden and during the summers on the beach (you can buy them from sea shops in Cornwall). My mother has always had them made by seamstresses in leftover interior fabrics, so they really are something very familiar and unique to my family. I now make them all in Cornwall by hand from limited bolts of vintage fabrics, from Jean Monro to Colefax. The idea is to create something limited edition that is timeless and fun for women of any age.
As a street style star often snapped by fashion photographers, you always look camera ready. What's your beauty routine?
Without fail I take my makeup off every night with Eve Lom Cleanser. It's the most thorough and gentle. I love lip balms and apply them as often as I can—the Rose Lip Conditioner from AERIN is lovely. I often use an oil after I shower while I'm still wet to keep moisturized. I'm also a firm believer in using quality products to protect your skin, a good moisturizer and primer makes a world of difference.