Darroch and Michael Putnam, the couple behind the florist Putnam & Putnam, are famed for their imaginative creations. They have wooed the fashion crowd, with commissions from Vogue, Bergdorf Goodman, Oscar de la Renta, Ferragamo and beyond, and have pushed the boundaries in wedding flower design. Their style is ethereal, wild, and always beautiful. I talked to them about their influences, favorite flowers, and wedding arrangements.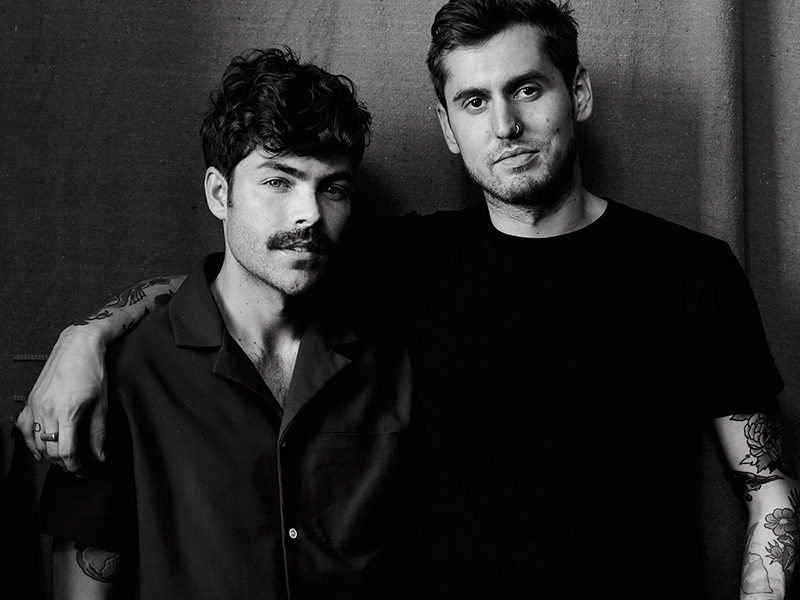 There is something incredibly romantic about the way you arrange flowers. What influences your style?
We pull inspiration from so many sources—17th century Dutch paintings, architecture, fashion... but the biggest influence on our style is the material itself. The starting point for every arrangement is usually the subtle crookedness of a branch or the transition of color in a single flower. Embracing the uniqueness of every stem mimics nature and creates a feeling of romance.
What are some of your favorite varieties of flower?
It's so hard to choose favorites, but we do have our go-to flowers for every season. In early spring, it's the ranunculus. Very few flowers have such depth and color variation in a single flower head—they are perfect for transitioning palettes. In late spring, it's a perfectly open garden rose. The heirloom varieties that are hitting the market are breathtaking. Autumn is our favorite season for flowers, partly because of the dahlia. It's the perfect flower for large scale arrangements because of how big some varieties can get—dinner plate dahlias in particular can get up to a foot wide!
You have garnered a cult following in the three years since opening Putnam & Putnam. What is your starting point when working with a new client?
The first step is to meet in person and throw ideas around. Half of working with a new client is making sure there is chemistry and trust. Once that is established, we usually do a walkthrough of the event space (depending on the scale of the job/installation). Given our backgrounds in design, we think very spatially, and in most cases, how we can transform space. It's always a collaborative process between our clients and us, which allows us to constantly try new ideas and push the boundaries a bit.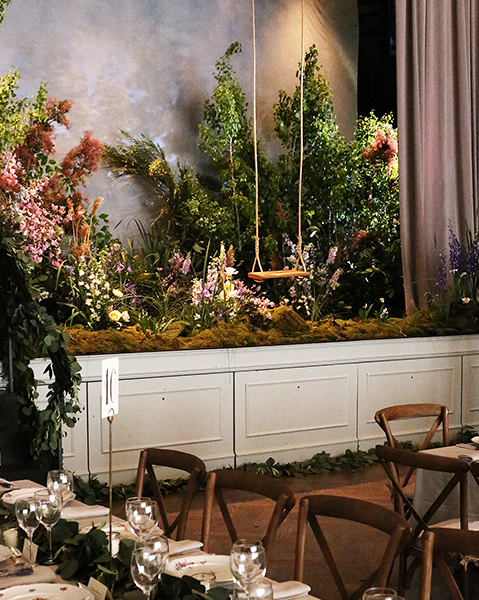 Summer is all about outdoor entertaining. What type of arrangement would you recommend for an alfresco summer dinner table?
When entertaining at home, simple is key. Try not to over complicate things. Unless you are a floral designer or have a lot of time to pour into intricate centerpieces, try to scale back and think about single variety arrangements instead. A vase filled with white cosmos is a personal favorite. Another fun way to create a dreamy tablescape is with fruit and bud vases. Fill the vases with wildflowers and surround them with whole fruit—citrus, pit fruit, and figs work nicely.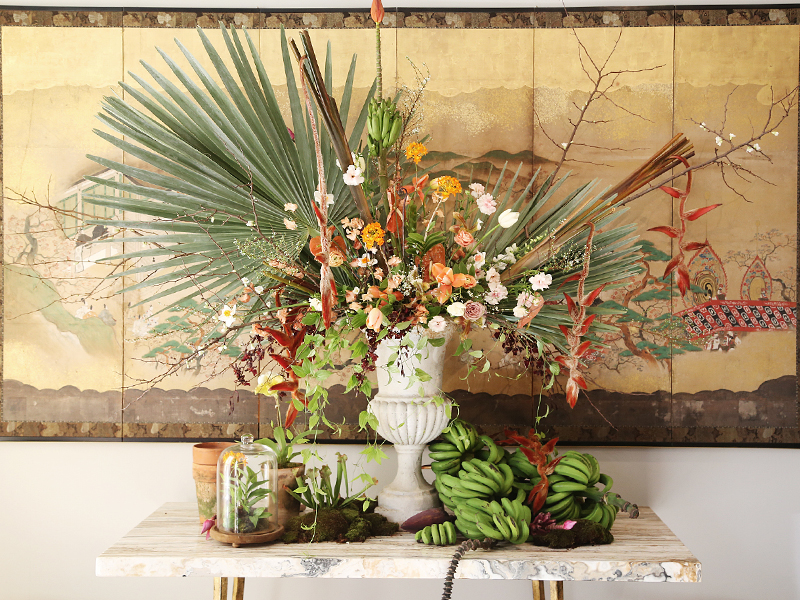 You have created magical spaces for brides. What advice would you give to a bride who is just starting to think about her wedding flowers?
A word of advice is to not get caught up on every tiny detail. Instead of having a ton of small elements, try to focus on fewer more impactful moments. A lush arch or chuppah for the ceremony and a still life-inspired escort table are great ways to play with space. Another fun option is to mix your dining table arrangements up. Instead of having all tables the same, think about three different options. Soaring branches with votives paired with low, lush centerpieces really create drama and depth. Arrangements in bell jars are also an unexpected and fun touch. Think out of the box and find a floral designer you trust to execute your vision.
I hear that you give classes on floral arrangement, what have some past topics included and when/where is the next one?
We have taught many workshops and love mixing things up. Last year we taught a bell jar workshop with all flowers sourced from Japan, and this spring we taught an intensive all-day class covering centerpieces and an installation arch. It's always so fun to see what our students create. Everyone interprets flowers so differently—it's exciting to see! Our next class is this August in Brooklyn. It will be a lush centerpiece workshop using late summer flowers. Come sip Prosecco and play with flowers with us!