You grew up in Nassau before moving to Paris. What are some of your earliest memories of the Bahamas?
The wonderful thing about where I grew up is that children are very free and can stay young for a long time. There is no rush to turn into an adult sooner than your time. There is also an amazing connection to nature and to simple island life.
When we moved to Paris, there is a picture of me in the street on my way to school and I vividly remember being so upset that I had to wear shoes and a coat. I was absolutely miserable.
Which hotel would you recommend in the Bahamas and why?
I would definitely recommend the Lyford Cay Club. The Old World feeling and nostalgia of the Bahamas emanate from the walls. It has a charm that I think few places have managed to maintain. The club rules might seem old fashioned, but it is so lovely to have dinner and see everyone dressed up and not chatting endlessly on their phones.
_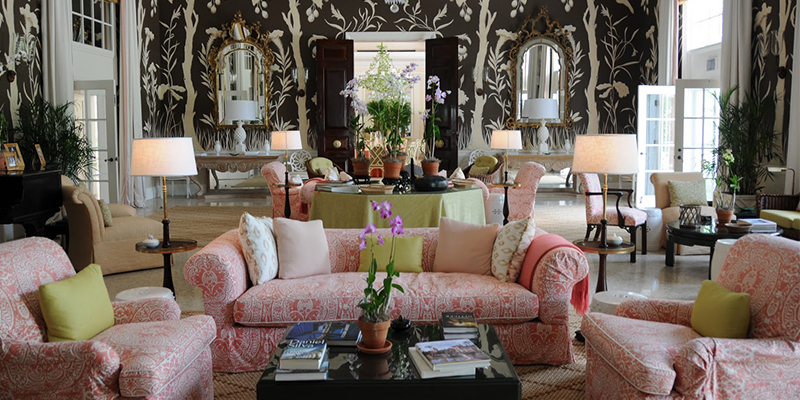 _
What's on your can't-miss list for visitors?
You can't miss hoping on a plane to Harbour Island. It's absolutely charming with all the lovely cottages and tons of fun shopping (Blue Rooster, Sugar Mill Trading Company, and Shine cannot be missed). The other great spot for fabulous home treasures is The Island Store in Nassau—I never leave without goodies. Straw markets on all the islands are filled with straw bag beauties; I need more cupboards because I have never seen a straw bag I cannot live without.
Which place is your favorite retreat in the Bahamas?
My favorite place to retreat to is the dock at my parent's house. It is hidden away, beautiful, and always tranquil. Incredible sting rays float by and there are a couple of very friendly turtles. It is so quiet until our three dachshunds start begging to go for a dive.
Where are the best beaches in the Bahamas?
There are so many beautiful beaches in the Bahamas. The Exumas and the pink sand beach in Harbour Island are absolutely unbelievable and should not be missed. But my favorite beach in the world is off our old family house. If I think of home that is where I imagine. I remember our old family dogs, who have long passed away, chasing the boats that came too close; endless sunburns; waterskiing lessons; and as my friends and I grew older, the reggae parties we had in the evening that lasted until sunrise.
_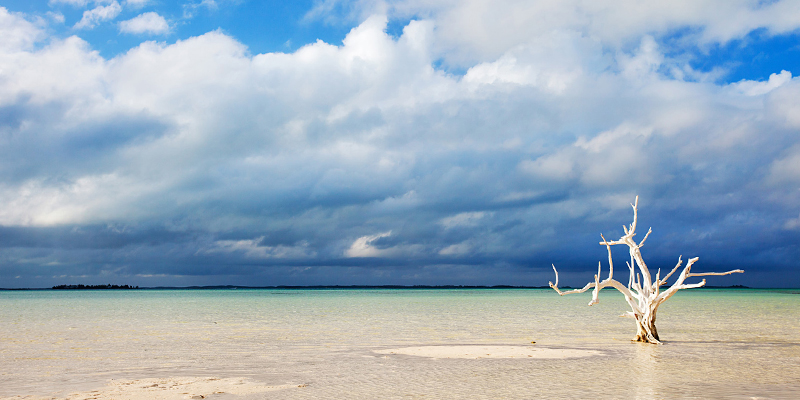 _
I'd love some tips on entertaining in the tropics. What's your style? Do you keep it casual? What's on the menu?
The funny thing a out the Bahamas is that sometimes things don't turn out as you quite expected. If you order something in blue it might arrive in pink. So interior designer Amanda Lindroth always says, "Plan B looks great!" and we tend to giggle. You often have to go with Plan B when entertaining in the Bahamas, and if you do so with a smile no one will ever notice.
Tips for entertaining are the same everywhere: always have delicious food, lots of drinks, and tons of great company. For lunch we will have a huge fresh conch salad with goat pepper, grilled fish, and lots of different salads. We always have children at the table and there is pizza or spaghetti for them. Berries, pineapple, and sorbet for desert.
I like to keep things casual as we are on an island, but I do love a pretty table full of candles with lovely paisley tablecloths, beautiful plates, and glasses and lanterns hanging in the trees. A great caftan, some sparkly earrings, being barefoot, and a fun playlist also help.
_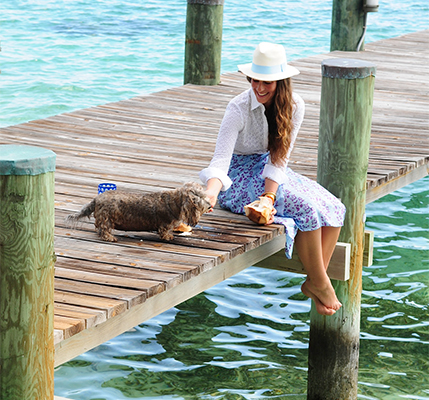 _
I love the concept behind The Goombay Bazaar, a traveling trunk show with treasures from all of your travels. Where are you headed next?
My parents are wonderful travelers and our photo albums are filled with pictures of fascinating places—I think they passed on the curiosity gene. Leave me in any market in the world and I am in absolute heaven. I have not decided where my travels will take me next as I'm currently spending time in Los Angeles working on new projects. Funnily enough, I know little of America—I'm sure there are lots of treasures to be found. When I decide to go a little further, Mexico might be my next stop. Or Japan. And I could return to India endlessly. I never want to stop traveling if I can help it!