The sculptor Vladimir Kanevsky meticulously crafts porcelain and tole botanicals, from hollyhocks and daisies to hydrangeas and lily of the valley. I have some of his pieces and love to study them—they could have come straight from a garden. Vladimir makes each flower by hand and paints them to realistic perfection in his New Jersey studio. The individual blooms are then perched atop leaves and stems made of painted copper. His work has appeared in galleries and museums around the world, and collectors over the years have included Deeda Blair, Princess Gloria von Thurn und Taxis, and the late Oscar de la Renta.
You began your professional life as an architect. What inspired you to switch paths and become a sculptor?
When I came to the United States almost 30 years ago, I decided to start a new professional life and become a figurative sculptor. I also began working on something more decorative, more craft-like—porcelain. At first I just needed it to pay my rent, but a few years later I'm possessed by the beauty and possibilities of porcelain and by similarities between the work of an architect and my work as a porcelain artist. Architecture is still my first love.
There is a very distinct style to your work. The flowers arranged in terra-cotta style pots, for example, are immediately recognizable as a Vladimir Kanevsky piece. What inspires your style?
I want my work to be simple, direct, and natural. I don't want any design or styling visible. Porcelain is a "pretty" material and it is very easy tо slide and make it cute, and sweet, and kitsch. I spend a lot of energy and consideration to avoid that.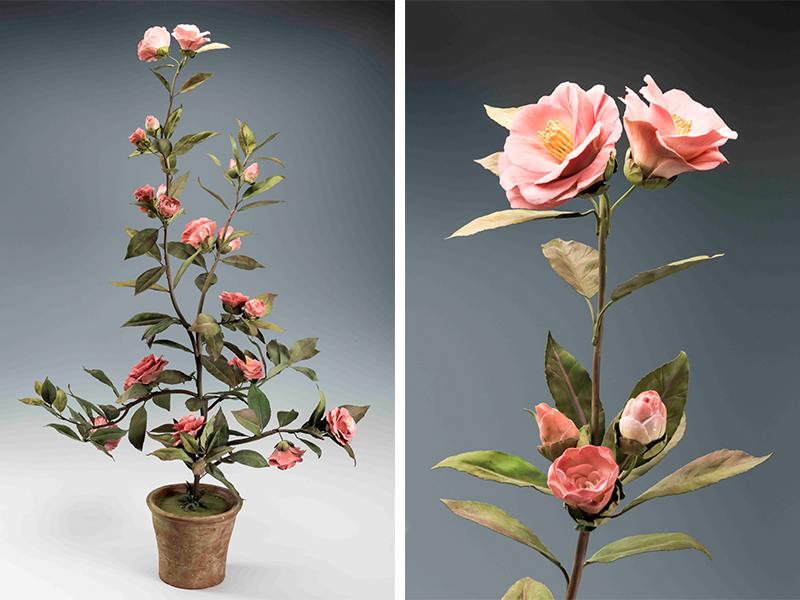 Photographs of flower arrangements courtesy of Andrey Terebenin, The State Hermitage Museum
Your perfect flowers clearly involve a lot of in-depth study. Do you have any favorite illustrated botanical books?
Yes I have a lot of botanical books and pictures. Favorites include The Romance of Flowers by Clinton Smith or any book by Carolyne Roehm. Some of the older publications combine beautiful pictures and scientific study. I love their spirit of curiosity and wonder. The best of them manage to see how the world works behind a little flower. I always try to keep this feeling of wonder when I study real flowers.
What has been your most memorable commission?
I have been lucky. I have had many interesting commissions. I could name a few: a huge table service that I made for Alberto Pinto. Flowers for costume jewelry for Oscar de la Renta, working on an exhibition with Carolyne Roehm, always interesting and challenging commissions from Charlotte Moss, unusual and very fruitful ideas from Alex Papachristidis.
The State Hermitage Museum in St. Petersburg, Russia, is hosting an exquisite retrospective of your work. Where can we view pieces closer to home?
The exhibition ends on October 1, 2017. It is a very big show, with 58 mostly big pieces in two historic halls of the Winter Palace. I want a show in New York but I need to catch my breath and rest a little after this hugely difficult project.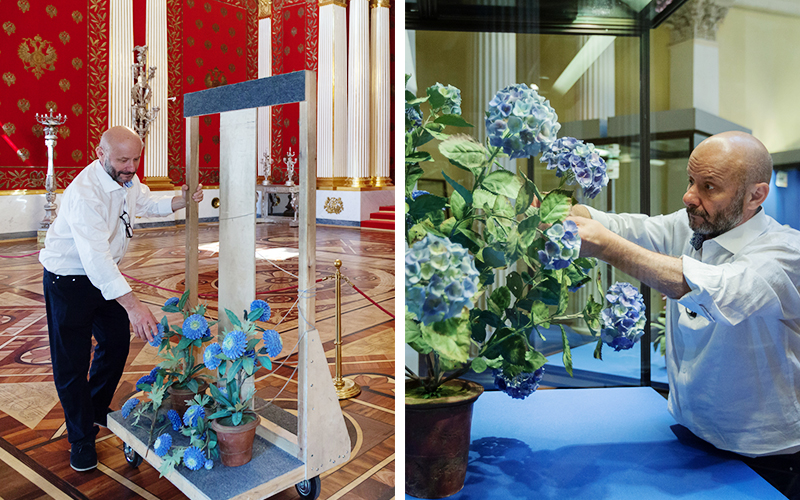 Your studio is just across the river from Manhattan, in the Garden State of New Jersey—what are some of your favorite gardens to visit there?
NJ is a beautiful state and my home, but my favorite garden is the New York Botanical Garden. My wife Edita and I go there often to work on new ideas and just to have quality time. Edita works on our flowers as much as I do. She has a very good vision and energy. These are some of the best and important moments when we are in the NYBG taking photos of flowers, discussing future projects, and fighting over new ideas.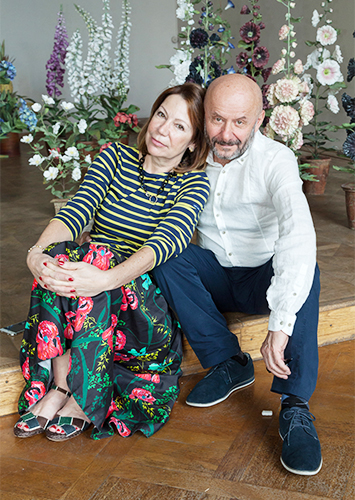 Photographs of Vladimir Kanevsky at work and Vladamir and Edita, courtesy of Svetlana Ragina, The State Hermitage Museum