I've loved Palm Beach for as long as I can remember. The mix of colors, the sea, the palm trees, it's the perfect backdrop for outdoor entertaining and the inspiration behind my new tabletop collection for Williams Sonoma. In keeping with stylish and effortless entertaining, I've created pieces that make setting a beautiful table easy. Blue and white stoneware paired with ikat-inspired linens feels relaxed and fun, and the color palette goes beautifully with wood and rattan. Serving pieces are also key; large platters for serving food family style are indispensible when you're dining al fresco, as are trays and a flatware caddy for transporting the essentials.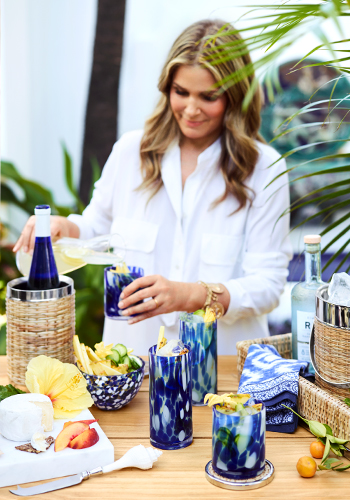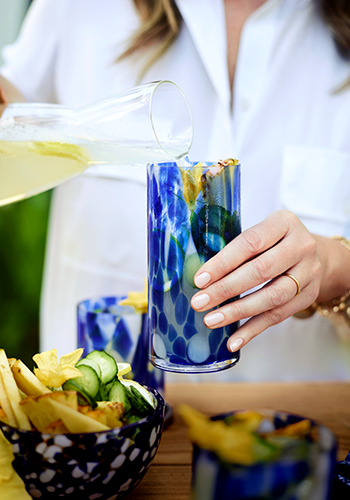 When crafting a menu for the warmer months, I like to choose dishes that are casual and refreshing. Nothing beats homemade guacamole, it's everyone's favorite thing to snack on and the flavor goes well with sweet potato tortilla chips. For appetizers, stone crabs remind me of the Florida Keys and I'll serve the legs chilled over ice in place of a traditional shrimp cocktail. A watermelon and feta salad with fresh mint is simple, healthy, and easy to make. I also prepare a simple green salad dressed with Williams Sonoma white balsamic vinaigrette. To drink, a refreshing pitcher of peach ice tea, filled with orange slices and mint leaves, is a perfect summer beverage. And for dessert, mini homemade chocolate chip cookies with a lemon sorbet are a guaranteed crowd pleaser.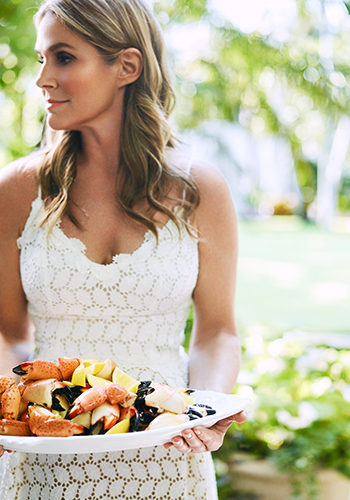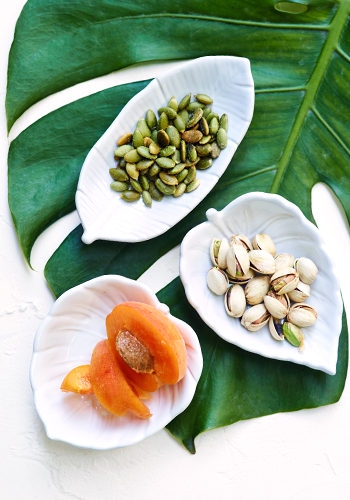 My favorite guacamole recipe requires four or five avocados for a small group, then chop up one of everything else and combine to taste:
Ripe avocados, roughly chopped (so that the end result is a bit chunky)
Red and green bell peppers, deseeded and roughly chopped
Mix of hot peppers (in order of hotness: poblano, jalapeno, Serrano, and cayenne), deseeded and finely chopped. Even if you don't like it too spicy, try adding some of the milder hot peppers (like poblano and jalapeno), they really add to the flavor and the rest of the ingredients will tame the heat.
Medium tomato (on the vine), deseeded and roughly chopped
½ red onion, chopped
A few cloves of fresh garlic, minced
Fresh cilantro, chopped
Freshly squeezed lime juice
Salt and pepper
For your chance to win selected pieces from the AERIN Collection by Williams Sonoma (approximate retail value: $4995), go to the Williams Sonoma Sweepstakes Sign Up before the closing date on May 15, 2017.
The AERIN collection is be available at all 230 Williams Sonoma retail locations in the U.S., as well as in the Williams Sonoma spring/summer catalog, and at williams-sonoma.com (select pieces will be available exclusively online).